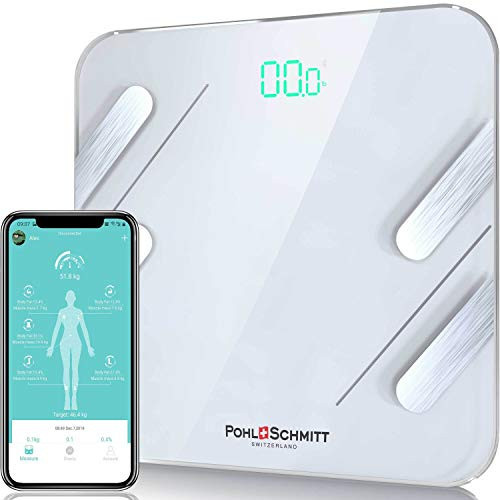 So you've heard about them, and now you want to know – what's a body fat scale ?  Well, it's a pretty darn cool contraption, if I do say so myself.  I had an old one years ago, and I honestly don't really understand what the benefit of it even was.  I didn't really understand how it was measuring body fat, and I had no good reason for believing the numbers I saw.  But today, body fat scales are pretty damn awesome.
I don't know exactly if it's called a body fat scale or if it's just considered a regular scale that happens to track body fat.  This picture here is the one that I've got, and I absolutely love it.
You sync it up with your phone, and you can even add users to your profile, so everyone in your family can track their own weight loss progress.  You take off your shoes and socks before stepping on it so that their sensors can give you a ton of information about your body and overall health.
The one I've personally got has become so popular among my own friends who have just stopped over to hang out, they've gone and bought their own scales, and they're not even fitness junkies like I am.  It's ridiculously inexpensive.  At least the one I have is, and you get so much out of it!  Let me explain.
---
Body Fat Percentage Calculation
You want to understand what a body fat scale does.  Well, it measures your body fat percentage.  Now, I knew very well going into the purchase, that I wasn't going to get a fully accurate reading of my body fat.  My guess is that it's off by at least a few percent.  However, that doesn't bother me.  What's important is that it's at least in some kind of ballpark range.  I've heard that even the best body fat tests aren't 100% accurate.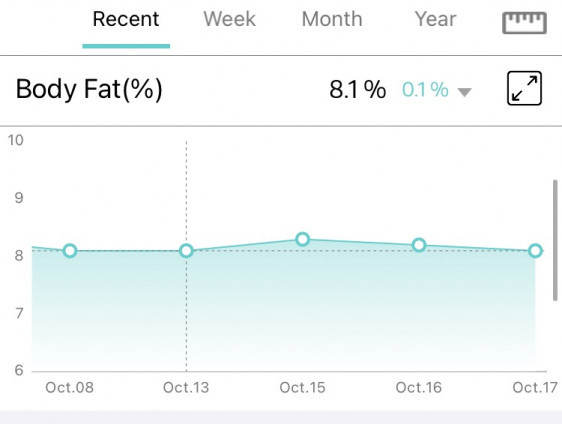 What's great is that if your goal is to lose weight, and more specifically, to burn fat off your body, this scale really is wonderful because it DOES show you excellent data, so you can see how your body fat changes over time.  Even if it's not 100% accurate, it helps you keep track of your own progress.  I've watched my body fat percentage go down by more than 2.5% in the last 3 months, which is a huge deal to me, cause I WANT to get into the single digits.  I started around 11% before I started a new eating and exercise plan and 3 months later, I was at 8.1%, which is also where I am at the time of this writing.  I'm certain that my body fat is a couple of percent higher, but that's fine.  All that matters to me is that progress IS being made.  I've been told that the best way to really gauge is to just look in the mirror.  Take before and after pics.
I follow a very simple eating and workout plan which has helped me hit my goals with ease.
---
13 Other Measurements Too
What's a scale to you if you can't measure your weight?  Well, the MAIN thing the body fat scale does, is measure your weight.  Also, I have heard that it gives very similar results that you'd actually get at a doctor's visit.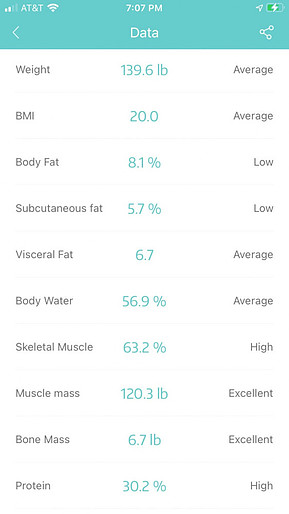 The scale measures body weight, body water, muscle mass, bone mass, BMR, BMI, fat-free body weight, and more.  I honestly never paid too much attention to all these different features until after I had the scale.  I was curious to know what's important about bone mass, BMI, and what's fat-free body weight?  I did a lot of searching on these things after seeing all the information show up in my app.
---
Get In Shape.  Stay In Shape.
The app that you install onto your phone to sync up with the scale is incredible.  From what I've seen, all digital body fat scales have you install an app onto your phone.  So, every time you weigh yourself, the app on your phone keeps track of it, and you can see your progress over time.  You can choose to see your progress over the course of the year, the month, or just the week, and in various categories.  I absolutely love seeing my body fat percentage go down over time, cause I know I'm eating right, and following an effective workout plan.
To me, it's been a huge deal, because I set off on a journey in mid 2020 to lose body fat and build lean muscle, and I attribute a lot of the success to having purchased this scale.  BTW, I started at 153 pounds, and as of this writing, I weigh 140 lbs.  I'm eating maintenance calories at this point, cause I don't want to lose more weight.
---
Harder To Screw Up Your Diet
Having a body fat scale that gives us calculations for so many different aspects of our health makes it much harder to screw up any kind of eating plan that you're on.  You've got those numbers on your phone in the app every time you weigh yourself.  You can clearly see if you're making progress or not.  There's something motivating about seeing the bright digital numbers show up.
If you're someone who is determined to lose weight, and you're starting a new diet or eating plan, this scale will hold you accountable.
---
Pretty Awesome Purchase
So, what's a body fat scale?  It's just a scale like any other, but with a ton more functionality added to it and a pretty awesome phone app that syncs up with it.  Do you want to know what your body fat percentage is?  This scale will give you an answer, although probably not 100% accurate.  If you're already planning to buy a scale, why not just spend the money on a body fat scale, ESPECIALLY if you are a health nut or even care remotely about nutrition.  Mine was less than $20.  Seriously, what you get for that price is kind of insane.
Also, I should mention, it seems to be far more accurate than the crappy scale I had before, at least in terms of measuring my weight.  And the reason I know this is cause when I went to the doctor last time, my weight aligned pretty closely with this scale which it never did with my previous one.
The multi-functionality that you get in addition to simply being able to measure your weight is simply amazing to me.  You get so much more than you asked for and the phone app syncs up beautifully.  If it broke, I'd buy one again in a heartbeat.
Click Here to Learn All The Features Of The Body Fat Scale I Use
If you have any experience with measuring body fat, I'd love to know what you've found to be most effective, or any questions you may have if you're at the beginning of your journey just learning about body fat.  Leave any comments below and I'll make sure to get back to you.  Thanks so much for reading!