I kept running into this device by accident on Amazon, and I swear it grabbed my attention as a good infomercial does. It is unlike any other fitness product I've ever seen. What is the Stealth Core Trainer?
At first glance, it appears to look like a bodyboard you'd take to the beach. It's actually a mini video game system that you rest your body on, and it claims to tone and define your physique, while also reducing body fat, all by playing video games. What!?
There are people who find normal workouts to be boring. As a solution, gyms create different programs and classes to make workouts more exciting. An example would be a group exercise that combines watching a movie while using an elliptical trainer.
If the movie pauses, then you stop too. The infusion of technology into workouts is becoming a trend, and The Stealth Core Trainer has taken this to another level.
This device was launched from a 2016 Kickstarter campaign by the exercise physiologist and entrepreneur Howard Panes. It aims for users to get a strong core with the combination of using the equipment and the user's smartphone.
So what is the stealth core trainer going to do for your health and fitness? Let's find out the details.
---
Please note, this post contains affiliate links & I may earn a small commission when you click on the links at no additional cost to you.  As an Amazon affiliate, I earn from qualifying purchases.
---
Why The Stealth Core Trainer Is So Unique
The Stealth Core Trainer is a sturdily built fitness device that's designed exclusively for performing planks. The platform is supported by an unstable foundation that enables it to move in any direction. Because it is unstable, it forces the user to balance while performing planks.
But here's what makes this small piece of exercise equipment even more unique. It has the incredible ability for you to play video games from your smartphone while using it. There's a slot in the middle of the board where you place your phone.
Mostly sold online and on online marketplaces like Amazon, the equipment arrives fully assembled, so it can be used right away. The company promises a 60-day money-back guarantee and no subscription is required for the mobile app games. Rightly so, this cool little device has been featured in many fitness magazines such as Women's Health, Shape, Muscle & Fitness, and Men's Health.
---
How To Use A Stealth Core Trainer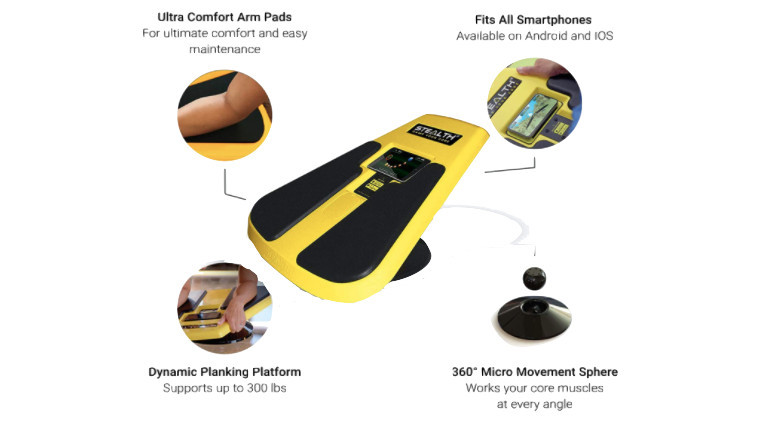 Using a Stealth Core Trainer is pretty easy. First, download the app that goes along with the equipment. The companion app will enable the user to choose a preferred video game to play. Once selected, place the phone into the dedicated slot in the middle of the equipment.
You then place the Stealth Core Trainer on the ground, preferably on top of an exercise mat. Once you've done this, you're ready to party. Get into a plank position while placing your hands or forearms on the large black pads of the device.
In order to play the video game, you must use your core muscles to tilt the board in different directions. The app tracks your progress, including game playing history and scores you've achieved.
---
What Video Games Are Included?
The Stealth Core Trainer is clear evidence that workouts can actually be fun while being challenging at the same time. The games included use the device's accelerometer and gyroscope. Ordering from their official website (https://trystealthnow.com/) will give 4 free games and a special discount (as of writing). You'll find it for a special limited-time $99 directly on their site, which is $50 cheaper than you can find it for on Amazon.
Some of the games are Speed Gliding (controlling a paraglider), Space Escape (an intergalactic themed game, in addition to another game which is Space Escape), and Color Chase. There is unlimited gameplay and almost every game has an arcade theme.
Users also have the option to join daily, weekly, or monthly challenges from other users around the world. Additional games can be downloaded for a minimal fee and they work on both iOS and Android devices.
---
Is The Stealth Core Trainer Effective?
Obviously, the Stealth Core Trainer can only be used by doing planks. However, the device also promises a full-body workout that focuses on arms, shoulders, lower back, abs, obliques, glutes, legs, and calves.
The games allow the user to get more engaged and motivated with the exercises included than you'd be doing traditional workouts.
To say whether these workouts are effective or not really depends on the person's motivation, interest, and involvement in the games. Just like any workout, you get out of it what you put into it. There's no magic bullet to fitness.
That said, this piece of fitness equipment makes exercising more enjoyable, so it may be more effective specifically for those who absolutely hate exercise or going to the gym. If you're dedicated to having a better body, the Stealth Core Trainer can definitely help you reach your goals, but you've got to put the effort in.
---
Stealth Core Trainer – The Future Of Fitness?
The Stealth Core Trainer definitely takes fitness to another level, and I think it can especially be a useful device for those who hate working out, due to boredom and a lack of motivation. In a world that is becoming more and more reliant on technology for almost everything, this device certainly proves it in the universe of fitness.
This makes exercise fun and exciting, by combining the unique elements of fitness and video games into one device. Of course, it won't magically transform your body. There's no replacement for hard work. So regardless of whether you use this device to get into shape, or choose to follow a regular home workout program, the effort is on you.
If you're willing to put in the work, this machine will take care of the fun and entertainment.
VISIT THE STEALTH CORE TRAINER ON AMAZON HERE
I hope you found this article to be helpful. If you've got any questions or comments at all, please let me know in the section below and I'll make sure to get back to you as soon as possible. Thanks so much for reading.