I had this question as soon as a friend of mine mentioned she's considering diving into it. What is the 75 Hard Challenge? I looked it up online and discovered some interesting information about this program founded by Andy Frisella. It looks pretty brutal at first glance, at least to me. But at the core of the program, I understand how it can be transformational.
The 75 Hard challenge involves a strict fitness regimen of two 45-minute workouts a day. At least one of these must be done outside, despite the weather, and daily reading of at least 10 pages of a self-improvement book. I do love the idea of reading each day. That's part of my morning routine anyway, and I think it's a great way to get people into a healthy head space.
Frisella says completing the 75 Hard is no small feat. But he's not alone: more than 600,000 Instagram posts are tagged with #75Hard. Even the TikTok app is filled with videos showing people completing the workout.
---
The Goal Of The 75 Hard Challenge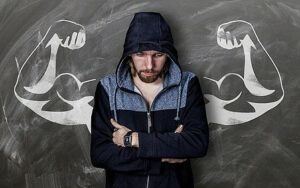 The goal of the 75 Hard challenge is to spread the name of the supplement and brand name. While the time frame is relatively long, it is also difficult to follow strict guidelines without cheating. Life happens, and a few missed workouts or meals can lead to a 75-day failure. Luckily, the program is flexible and you can start it and stop at any time. Ultimately, the goal is to change your life.
The 75 Hard challenge was launched on a podcast in March 2019. Since then, it has expanded to a book, a website, and an app. The program was developed from Frisella's own personal experience.
While the program was originally designed to help people improve their health, it's no substitute for medical advice. As a result, it's important to listen to your body and stay consistent. Adapting the 75 Hard challenge to fit your lifestyle is not cheating.
---
What Is Required Of You?
During the 75 Hard Challenge, you will have to work out twice a day for 45 minutes. However, it's important to note that these workouts will only be effective if you're able to continue the regimen in the long run.
The 75 Hard Challenge will transform your body and your attitude, and it's essential to take the time to exercise, eat well, and read good books. The goal of the program is to create new habits that will stick with you for the rest of your life.
The program focuses on mental toughness as well as physical strength. To achieve this, you must take a photo of yourself daily and drink a gallon of water every day. You must also drink plenty of water to stay hydrated.
This will vary for different people, so it's important to be consistent in your daily routine. In addition, you must read and review useful books to stay motivated and on track.
---
What Makes The 75 Challenge Different?
The 75Hard challenge is a unique fitness and mental challenge that many people are taking on to get in shape. It is a social media challenge based on fitness and is popular with a lot of people on social media. I think one of the things that make it stand out is that its focus is to make you mentally tough.
According to those who have tried it, it's an excellent way to improve your health and make yourself feel better. This program is a holistic, five-day fitness plan. Its success will depend on your dedication and your willingness to complete it.
During the 75 Hard challenge, you'll perform 5 "critical" daily tasks. These tasks focus on mental and physical self-improvement, and if you complete all five of them, you'll be able to stay healthy and fit for a long time. The goal is to push yourself to the limits of your limits. You will be surprised by the results and the many benefits you'll experience.
---
What Is The Diet & Workout?
The 75 Hard challenge is a diet plan that requires participants to engage in two 45-minute workouts each day. It is not a weight-loss program, though, and most registered nutritional professionals don't recommend this plan. I wonder why?
Rather, it is an exercise and mental health course that teaches a person to become mentally tougher. But it doesn't include any details about what to eat and how to prepare for it.
In addition to the diet, 75 Hard challenges require you to record your progress daily and spend at least 45 minutes each day working out. In addition to the workouts, the challenge also includes spending time with your family and pet.
Those who don't want to spend a lot of time with their families may not want to participate in the program, as it might interfere with family time. Moreover, the challenge requires that you take care of your health and that of your loved ones.
---
A Kinder Alternative
When you look at the overall approach of the 75 Hard Challenge, it all boils down to habits. The gist is that we must break bad habits and develop new ones in order to make weight loss sustainable and be able to live healthy and happy lives.
While I do think that this program has some great benefits and its goal is to truly transform you, both physically and mentally, Noom is an alternative that also focuses on many of the same core beliefs.
Both programs are focused on changing your thinking and increasing your awareness of your daily habits, by creating new ones.
But Noom is far kinder and in my opinion more realistic because it's not about getting your ass into shape in 75 days.
It's about learning which habits you currently have that are hurting your progress, and how to develop new ones that will help you make weight loss a long-lasting and sustainable lifestyle.
---
75 Hard Challenge In Summary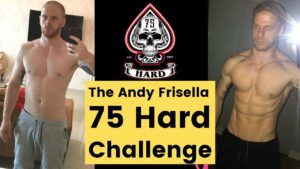 So, what is the 75 Hard Challenge? At first glance, it looked like a seriously brutal boot camp. I've created this blog to help people get into the best shape of their lives in a way that's simple and sustainable.
From what I can tell, the 75 Hard Challenge doesn't seem simple. It seems flat-out brutal, but at the same time, there are moments in our lives when we need to kick ourselves in the ass to get into gear. That's exactly how this program comes off to me. You've got 75 days to get your ass into shape, both physically and mentally.
I do agree that we need to reprogram our thinking and develop new healthy habits in order to make long-lasting sustainable changes in our bodies and our minds.
That's why I direct people to Noom who truly want to make weight loss a sustainable lifestyle.
I hope you found this article to be helpful. If you have any questions at all regarding anything written here, please leave them below and I'll be more than happy to get back to you as soon as possible. Thanks for reading!