Since I do all of my workouts at home, I figured it would be a great idea to write an article on the best rated home workout equipment products that I could personally find on Amazon.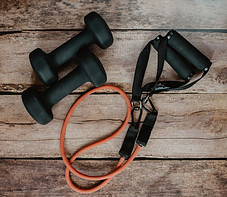 As a guy who hasn't gone to the gym in years, and focused exclusively on completing all my exercises in my living room, I've learned a lot about the most effective equipment to have to be able to get a great workout in with.
Below I've listed 5 different home workout products that have excellent reviews on Amazon.
They're either top sellers in their own category or Amazon's top choice of product for the category they're in. Here they are, in no particular order.
---
Please note, this post contains affiliate links & I may earn a small commission when you click on them at no additional cost to you.   As an Amazon affiliate, I earn from qualifying purchases.
---
Resistance Loop Exercise Bands – LetsFit
Letsfit Resistance Loop exercise bands are a best-seller on Amazon with over 55,000 positive reviews. These come with 5 different colors and resistance strength levels to allow you to use them with ease. Unlike other resistance bands, you don't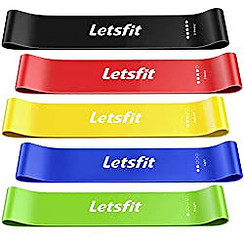 have to worry about remembering the colors of these because resistance levels are listed on each individual band.
You can use them to exercise your arms, legs, glutes, abs and so much more. They can easily be used for something as simple as stretching and warm up exercises all the way to full body workouts. There are so many different variations of exercises that you can do to make bands suit your needs.
I have a set of resistance bands that I've personally been using for traps exercises at home, and when I travel, I take them with me to use for bicep workouts. It's amazing just how versatile long pieces of high quality rubber can actually be in getting you a good workout in.
This particular brand comes with a portable carry bag as well as an instruction manual so you can get working out as soon as you receive the item.
Learn more about exercises you can do with resistance bands right here.
---
Total Upper Body Workout Bar – Iron Gym
One of the most important pieces of equipment that I own is a pull up bar. It has without question helped me hit my fitness
and strength goals unlike any other equipment I own.
This is Amazon's choice of pull-up bars with over 10,000 great reviews from happy customers. What separates this from an ordinary pull up bar is that it actually has quite a bit more functionality than others on the market.
It's easily detachable from your doorway and allows you to have a much more room for versatility in your workouts. You can use this in any doorway as long as it is between 24 – 32 inches wide. The maximum weight it can hold is 300 pounds.
This bar is ideal for workouts such as pull ups, chin ups, push-ups, crunches, dips, and more, so you can hit your biceps, triceps, abs, and back very effectively by using this bar correctly.
Just a personal note. I once purchased a similar workout bar and it didn't fit in my door frame. I'm not sure if it had anything to do with my own inability to actually set it up, or if it just wasn't the right size. So, please make sure to check the dimensions of your door frame and make sure it aligns with this product.
The great thing about Iron Gym is that they're hugely reputable company and they have a great warranty if you're unhappy with this workout bar for any reason.
---
Adjustable Dumbbells – Bowflex Select Tech 552
I don't know what I'd do without my adjustable dumbbells. Over the years, I've gone through different workouts that have
almost always required me to use them to some degree.
Bowflex has had an amazing reputation for their fitness products for years now, and their adjustable dumbbells are no exception. I actually contacted the company in the summer of COVID 2020, and they were sold out of all their adjustable dumbbells since the pandemic began.
Luckily you can find these on Amazon, and customers absolutely love them, with over 9,000 fantastic reviews. These specific dumbbells adjust from 5 lbs – 52.5 lbs per dumbbell. When you make the purchase, you'll receive two separate dumbbells. I feel the need to mention that cause sometimes dumbbells are actually sold as just one unit.
These have a unique dialing system, which allows you to combine 15 sets of weights into one. This is probably the biggest plus for me, because I don't have the space to lay out 15 sets of dumbbells. In short, this allows you to keep it all in one little corner of your home, giving you an uncluttered space to work out.
You get a two-year warranty on all plates and parts. Another cool bonus is you can download the Bowflex SelectTech app to your phone and follow lead trainer workouts which you can log so you can track your fitness progress.
Dumbbells allow you to work almost any body part with multiple variations of exercises. Just some areas you can work are legs, chest, back, abdominals, arms and shoulders, and there are multiple workouts you can do for each area.
---
Jump Rope – DEGOL
Jump roping is an incredibly effective workout and a wonderful tool to improve your overall fitness. It's a favorite tool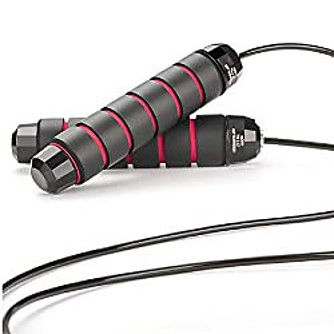 amongst martial artists and athletes. It's amazing to help you improve speed, coordination, and movement efficiency.
This jump rope by DEGOL is Amazon's choice, and it's an incredibly inexpensive buy for what it is. It has over 23,000 excellent reviews from ecstatic customers.
One of the best features of this jump rope is its ball bearings which help avoid you getting tangled up in the rope while jumping. The foam grip handles make the actual jump roping a comfortable experience.
The rope itself can be easily adjusted so that regardless of your height, there won't be an issue.
Click here to read about other jump ropes that also have great reviews. One of them is even a digital rope that you can use if you don't have much space to jump.
---
Extra Thick Anti-Tear Yoga Mat – BalanceFrom
This is another #1 seller on Amazon for Yoga Mats with over 47,000 happy customers. It's 71 inches long and 24 inches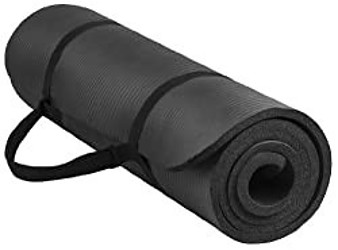 wide, which should give ample room for people of many different sizes.
The material is 1/2 inch thick and made of durable high-density foam. Both sides of the mat are non-slip to help prevent injuries. The mat itself has a moisture-resistant technology and it's very easy to clean with soap and water.
It comes with a velcro carrying strap which makes this very convenient and portable, whether you're going to do yoga at a studio, or at home.
Many customers who reviewed this item stated their experience with less pain on their knees and joints because of the thickness of this mat.
It comes in 7 different color options and a 2-year warranty.
---
Final Thoughts On These Products
The 5 items I've listed in this article are the best-rated home workout equipment products that I personally found on
Amazon. They're listed in no particular order.
Every one of these products I believe has an important place for home workouts. For me personally, a pull-up bar and adjustable dumbbells have been a part of my home workout routine for years.
I recently started incorporating jump roping into my weekly routine and resistance bands have become more important to my workouts than I ever thought they'd be.
I hope this list was helpful, and if you have any questions about any of these products, please let me know. Also, I'd love to know what other fitness products you may have at home that I didn't list. Any questions or comments that you may have, please leave them in the comment section below and I'll get back to you as soon as possible. Thank you so much for reading.