The best weighted vest for workouts really depends on your personal needs. But I believe they should be breathable and adjustable, considering the movements we make between exercises. We often need the ability to comfortably change things up quickly if needed. I'll share with you 4 of the top weighted vests on the market as well as my personal experience with the one I have.
I decided to buy a weighted vest cause I got tired of adding steel plates to a backpack during my bodyweight workout routine. It was starting to become very uncomfortable the more weight I added, and I realized that it was going to be way easier to get through my workouts with a weighted vest.
The weighted vests listed below are great for workouts, cross training, and pretty much any other activity you'd require additional weight for. So, here are 4 of the best weighted vests for workouts that you can buy.
---
This post may contain affiliate links & I may earn a small commission when you click on the links at no additional cost to you. As an Amazon affiliate, I earn from qualifying purchases.
---
RUNFast/Max Adjustable Weighted Vest
The RUNFast/Max Adjustable Weighted Vest is the one I personally own, and I'm very pleased at how effective it is for my bodyweight workouts. It's a top rated vest on Amazon with thousands of great reviews. However, the main reason I purchased this was its price point compared to the rest.
I didn't have a ton of money to spend, and the more weight you want in your vest, the pricier it gets as you'll notice with any brand. I almost went with the 60 pound option, which was only 3 dollars more than the 40 pound option. That seems like a no brainer, right?
The reason I went with 40lbs, though, is because Amazon had an "opened product" deal which allowed me to get it at half the price because the packaging was damaged. What I received was just like new, and I got it for under $50. That said, even without the discount, this brand still has the best deal, especially if you're looking for a heavier vest.
The weights I have are in 4 pound increments and they're in tubes of sand. You just slide them into the appropriate compartments of the vest to add weight to it. This has been very easy to do during my workouts. I either add weight or remove weight depending on the workout I'm moving to next during my routine.
I did extensive research before I decided to buy a weighted vest and spoke to different guys who use this particular vest for their own bodyweight training. They all love it, and what surprised me is that various guys who don't even know each other are using this same brand. I don't know if it's the best adjustable weighted vest out there, but at least it's doing exactly what I need it to do for my workouts, so I'm happy with it.
FEATURES OF THE RUNFAST WEIGHTED VEST
weights are included
weights are removable

weights are sand in 4 pound tubes (for the 40 lb vest)
one size fits most people

shoulder pads are an option
20lbs, 40lbs, 60lbs, 80lbs, 100lbs, & 120lbs options available
strong Velcro strap secures vest into place

---
CAP Barbell Adjustable Weighted Vest (40lbs)
The CAP Barbell Adjustable Weighted Vest is a great option if you're happy with up to 20 pounds of weight during your workouts. This vest is made of breathable mesh material and uses steel plates as weights. They slide into the slots on the vest and can be removed or added up to 20 pounds. There's also an additional pocket where you can store your cell phone.
FEATURES OF THE CAP BARBELL WEIGHTED VEST
breathable mesh for comfort
adjustable clips to fit your body type

neoprene padding for additional comfort

steel-shot weight packets included

weights are 0.75 pounds each

up to 20lbs of resistance

Velcro straps on each side
SHOP CAP BARBELL WEIGHTED VEST HERE
---
CROSS101 Camouflage Adjustable Weighted Vest
CROSS101 Adjustable Weighted Vest has many different weight options to choose from and has thousands of great reviews. From everything I observed, it seems to be almost identical to the RUNFast Weighted Vest I own (first item on this list). The only difference is this one is camouflage. When I compared the two, I went with the RUNFast because I got a better price for it in the end.
This vest comes with the option of adding shoulder pads to it. If your tight on money though, you could easily go without the shoulder pads, which saves you about $10. I'm using shoulder pads with my vest, but in all honesty, I'm not sure just how beneficial they actually are.
FEATURES OF THE CROSS101 WEIGHTED VEST
weights are included
weights are removable
one size fits most people

shoulder pads are an option
weight options are between 20lbs – 140lbs
strong Velcro strap secures vest into place
vest is camouflage
SHOP CROSS101 WEIGHTED VEST HERE
---
Aduro Sport Weighted Vest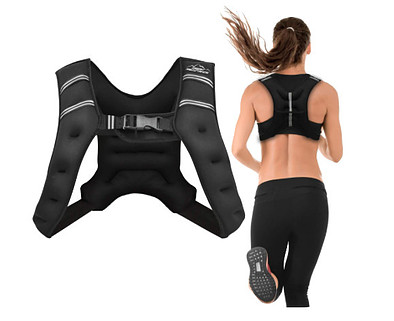 Aduro Sport Weighted Vest is the top seller in Amazon's Strength Training Weight Vests and by far has the most customer reviews, most of whom are raving fans. This vest is different than the rest on this list because the weight of the vest is evenly distributed. This is actually a really nice benefit depending on your goals.
I've noticed with my own vest that I slide the weights evenly into the slots on the front and back, so that it feels evenly distributed while I work out. With the Aduro vest, you don't have to worry about sliding weights in, because the weight that you purchase is already evenly distributed inside the vest with high-quality iron pieces.
However, this also means that you can't adjust the weight. So, if you buy the 20 pound option, that's the weight you'll be stuck with. To me, that was a deal breaker, because I need to be able to easily adjust my weights, depending on the workout I'm doing. Still, this vest may be exactly what you need if your set on a specific weight for your workout routine. Thousands of other customers agree this vest is perfect for their needs.
FEATURES OF THE ADURO SPORT WEIGHTED VEST
neoprone shoulder padding for comfort
adjustable buckles to fit your body
weights are made of iron unlike other brands

weight is evenly distributed to prevent slipping & sliding

weights are 0.75 pounds each
4lbs/6lbs/12/lbs/20lbs/25lbs/30lbs available
extra mesh pocket to add additional weight if needed
SHOP ADURO SPORT WEIGHTED VEST HERE
---
Which Weighted Vest Is Best For Your Workout?
So which of these is the best-weighted vest for workouts? It's hard to say, because they're all comparable and in the end, if the vest is doing the job it needs to do as far as intensifying your workout, I'm not so sure the brand matters.
I do feel that the quality and comfort of the material on the vest is important. Depending on which workout you do, you're carrying quite a bit of weight. My RUNFast Weighted Vest is doing a great job for my needs and the rest on this list are made with high quality materials as well.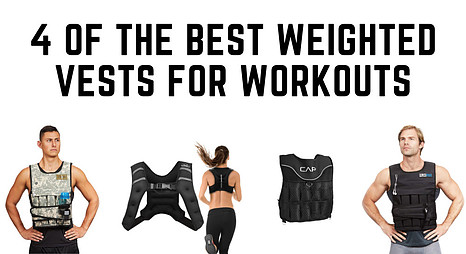 If I have a single regret with my purchase, it's that I didn't get the 60-pound vest. I'd rather have more weight than I need so that if my strength increases, I can easily add more weight to the vest. But as I mentioned earlier, I went with the 40-pound option because it was an amazing deal. And if I get stronger, to the point where I surpass the 40 pound limit of the vest, I'll consider upgrading.
That said, it seems all the weighted vests on this list are great quality products, so you may want to dig a little deeper into each one and check out the various customer reviews to determine if one of these is a good fit for your needs. I hope the information in this article was helpful. If you have any questions or comments at all, please leave them below, and I'll be more than happy to get back to you as soon as possible. Thank you so much for reading. I really appreciate you being here.