I'm writing this Pro Series Muscle Milk review after downing a full bottle of their Slammin' Strawberry flavor right when I finished my workout yesterday. Combined with a giant Rice Krispy Treat blasted with M&Ms, there's just something extremely satisfying about the two together :).  On its own, I thought the drink was pretty good. I've had better, but I would definitely drink it again.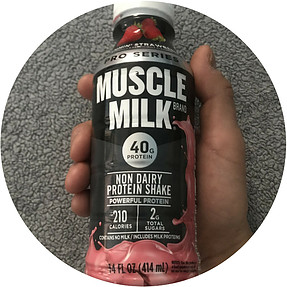 If you're looking for a high protein shake, then you can't really go wrong with Muscle Milk Pro Series, considering each bottle has 40 grams of protein. I've only seen this outdone by Core Power, which has a line of protein shakes with 42 grams of protein per bottle.
Here's the breakdown of the article:
Protein & Nutritional Info
Taste
Price
Convenience
I'll break down the various details about this protein shake so you can decide for yourself if this is the right drink for you. Let's get to the good stuff!
---
Protein & Nutritional Breakdown
Muscle Milk proudly states that their products are all NSF Certified For Sport, which means that anything you buy from them is safe and has no banned ingredients or substances. Let's discuss the details of protein and other nutrients that you'll find in the Pro Series Muscle Milk shakes.
For anyone who needs extra protein in their diet, Muscle Milk Pro Series has plenty of it. It's the perfect post workout drink if you train hard. I do intense bodyweight training 3 days a week, and I need a supplement with essential nutrients and significant protein for muscle building.
In that regard, for anyone who lifts weights or does intense exercise, this is a great recovery drink that can fuel you perfectly after a workout. The protein helps support muscle growth, the rebuilding of muscle, and muscle mass maintenance.
Even if you don't work out, but need more protein in your diet, this is a fantastic way to add it in there with a minimal amount of extra calories. That makes this a great meal substitute or just a quick and easy snack that packs a ton of protein.
Muscle Milk has a high-quality combination of slow-releasing and fast releasing proteins, which is delivered to your body more effectively than whey protein alone. The 14-ounce bottle has 40 grams of protein with only 210 calories.
If you're on Keto or low carb and watching your sugar intake, there are only 2 grams of sugar per 14 ounce bottle. An 11 ounce bottle only has 1 gram of sugar. Many diabetics have left reviews that this is the perfect drink for them.
Muscle Milk has an excellent source of over 20 vitamins and minerals, including Vitamin D and Calcium which is very important for strong bones. You'll also find Leaucine, which plays a large role in muscle growth and development, along with many other essential amino acids.
---
Taste
It was pretty good. But I will say I could taste the slight chalky flavor while I was drinking it, and if you've read any of my
other whey protein product reviews, you'll know that I'm not a fan of that chalky after-taste. It definitely wasn't as strong as other drinks or protein bars I've had, so I could definitely handle it.
Keep in mind, I also drank the Slammin' Strawberry flavor, so I can't speak for their Chocolate, Vanilla, or Banana options. I've seen several reviewers who swear by the Chocolate and Vanilla flavors. These are people who aren't fans of protein drinks because of their taste, so it could very well be that those flavors are amazing.
Personally, my favorite protein drink in a bottle is Core Power by Fairlife. That protein shake just tastes like a bottle of chocolate milk. That's exactly what I want a protein shake. I want to be fooled by its flavor. I want my eyes to pop out of my head in shock that it's a protein shake! How can a protein drink taste this good? Well, that's my experience with Core Power.
Of course, this is just my opinion, and there are almost 6,000 raving reviews on Amazon from customers who actually love Muscle Milk's Pro Series shakes. So it's worth heading over there to see other people's opinions on this drink.
Click here to head on over to Amazon to read customer reviews.
---
Price
Depending on where you choose to buy your Pro Series Muscle Milk, the price varies quite a bit. In fact, I wouldn't suggest buying it directly from the grocery store because it's incredibly pricey compared to the deals you can get online for it when you make a purchase for a 12 pack.  As a 12 pack, it's actually very decently priced.
I bought a bottle of Muscle Milk from the grocery store, and it was on sale for $3.99. The regular price is $4.99. That's quite steep for a protein shake in my opinion. I see other protein shakes on the shelf that are more than half that price, and with similar protein quantities.
However, if you buy Muscle Milk from Amazon.com as a pack of 12, you are getting a much better deal, at about $2.08 per bottle. That is definitely worth it, but for the same price, I'd probably go with the Fairlife Core Power drinks I mentioned earlier, just cause I really love those shakes.
---
Convenience
This may seem obvious, but I thought to mention it since I've run into issues with not having a simple way to get my whey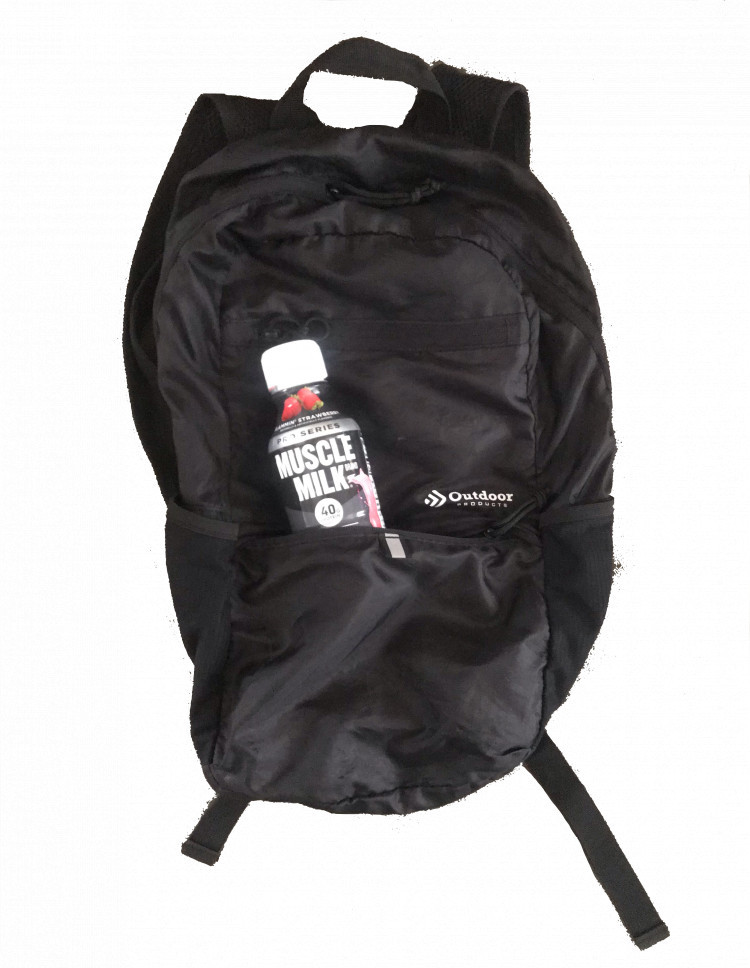 protein in for the day, especially if I'm out on vacation, which actually did happen. It's annoying to have to pack little zip loc bags with protein powder measured out ahead of time.
This Pro Series Muscle Milk review is based on my experience with the individual 14-ounce bottle, which is a time-saver, and makes it very easy to take along with you on the road, to work, or whatever you're headed. You can easily pack it away in a bag. So, having access to the bottle is just convenient for when you're on the go
This is my new fix for any time I know I'm gonna need protein but I won't be home to mix it with milk, or if I just don't feel like packing it up in a little zip loc bag. From this point forward, I'll be taking protein shakes in a bottle with me wherever I go.
As I mentioned earlier, I'm more a fan of Fairlife Core Power shakes, cause it literally tastes like chocolate milk in a bottle. So that's been my go-to drink in a situation where I'll be away from home. I just pack a few bottles in my bag and head out to wherever I'm going. The last time this happened, I took them with me on a trip to Mackinac Island, and I never had to think twice about getting my protein in for the day.
---
Final Verdict: Great Protein Supplement
The final verdict is that a Muscle Milk Pro Series shake is a very good buy. It has 40 grams of high-quality protein, whether
you're looking for a post-workout recovery drink, or simply need a meal replacement. At only 210 calories, you're getting a ton of nutritional value as well.
I'll be honest. It's not my favorite protein shake, but it could very well be that the Slammin' Strawberry isn't their best flavor. I saw lots of reviews on Amazon from customers who swear by the Vanilla and Chocolate flavors, so I may very well give those a try.
On my workout days, my goal is to get a minimum of 40 grams of protein post-workout, and this bottle has exactly that, so even if I'm not the biggest fan of the Strawberry flavor, I'd definitely drink it again, just cause fueling my body with high-quality protein and nutrients is more important than the flavor itself to me.
I strongly suggest if you're going to make the purchase, to avoid getting Muscle Milk at the grocery store, unless it's on a major sale. When I bought it on sale, it was still $4, which is pretty insane. You can get it at half that price off Amazon in as 12 pack. Of course, it may be worth getting a single bottle from the grocery store to see if you even like it.
The convenience of having a bottle over protein powder is fantastic. I've already decided I'll keep protein shake bottles on hand at all times, for whenever I head out on a trip or need one on the go. I keep Fairlife Core Power Shakes nearby for when that happens again.
I hope this review was helpful and I was able to share useful information with you regarding this protein shake. If anything was unclear, or if you have any questions or comments about it at all, please leave them below and I'll make sure to get back to you as soon as possible. Thank you very much for reading.