This Ninja Air Fryer review comes from someone who uses it pretty much 7 days a week. I'll explain to you all the nifty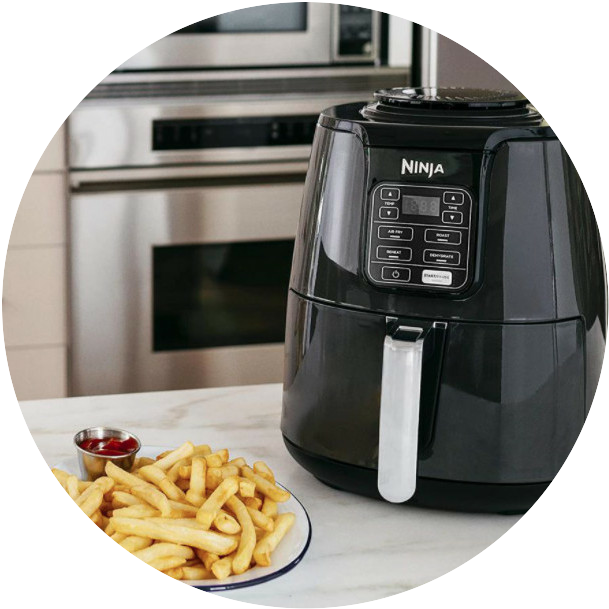 features Ninja offers in their air fryer, some of which you can't find in other brands, which makes it stand out against the competition. My Ninja, without question, is the greatest kitchen investment I've ever made.
It's saved me space by replacing my toaster and toaster oven. It's also saved me time and calories by not using a frying pan or my oven to prepare foods nearly as much as I used to.
In fact, I can't remember the last time I fried a piece of meat or vegetables in a pan. I also don't remember the last time I put chicken or pork chops in the oven. My air fryer has become HOW I cook now.
If you don't have an air fryer yet, you might be thinking to yourself, "well, it seems like a cool device, but I don't really need it". That's what I thought too. That is…until I actually owned this thing, and now I have no idea what I'd do without it.
Well, if it broke, I'd buy another one in an instant…not another brand, just the exact same air fryer I already have, which is the Ninja AF101 model. It has a 4 quart basket. If you have a larger family to cook for, the AF161 model is the same as mine, just bigger, with a 5.5 quart basket, and a few extra options, including more efficient cooking time.
So, in this article, I'll break down all the features of the Ninja Air Fryer that make it an amazing kitchen appliance.
Here's the breakdown of what you'll learn:
4 Essential Functions Of The Ninja Air Fryer
Ninja Air Fryer Cleaning & Construction Info
Why The Ninja Has Over 15,000 Perfect Reviews
Awesome Foods You Can Cook In The Ninja Air Fryer
Why It's Perfect For Health Nuts Who Want Bad Food
I will be speaking to the AF101 model, as that is the one I personally own. Let's get to it.
---
Please note, this post contains affiliate links & I may earn a small commission when you click on the links at no additional cost to you.   I absolutely love my Ninja Air Fryer and use it daily. As an Amazon affiliate, I earn from qualifying purchases.
---
4 Ninja Air Fryer Functions
The Ninja has a great temperature range compared to other air fryers on the market. You can cook foods at 105 degrees all the way to 400 degrees. I've learned that 390 is the sweet spot for almost all the foods I cook.
There are 4 programmable functions inside of the Ninja Air fryer. What do they do?
AIR FRY

This is the function I use for almost all the foods I cook. It's pretty much the function that makes an air fryer what it is. You can cook your favorite foods using this function without worrying about extra oils, fats and calories getting in the way of your fitness goals. This function will give you crispy french fries, golden air fried chicken, and so many other foods. Meats always turn out perfectly crispy on the outside, and tender & moist on the inside.

ROAST
Foods you would normally make in the oven, such as casseroles, roasted vegetables, or meats that you would normally marinate, like a chuck roast. This function uses the Ninja Air Fryer as a roaster oven for tender meats, baked treats, and more.
REHEAT
This option is perfect for reheating leftovers. You'd be amazed at how you can revive old french fries, pizza, and chicken wings to their freshness from the restaurant's taste and texture. I swear, this one time I even reheated half of a Popeye's chicken sandwich, and it tasted better straight from the air fryer than it did when I bought it from the restaurant.
DEHYDRATE
This option is really what makes the Ninja Air Fryer stand out among its competition. This function removes moisture from food so you can prepare homemade vegetable chips, dried fruits, and beef jerky. Some popular foods people dehydrate include: pineapple, apple chips, bananas, strawberries, mangoes, fresh herbs, tomatoes, asparagus, mushrooms, beef jerky, turkey jerky, chicken jerky, and much more.
---
Easy Cleaning & High Quality Construction
The Ninja Air fryer is also well-known for being much easier to clean than other air fryers. I've heard of many other brands that chip over time and cause customers to complain. This has never happened with my Ninja Air Fryer. I've owned it now
for over 2 years. I've never had an issue with chipping and it's still working great.
The main parts of the air fryer are dishwasher safe:
MAIN UNIT
This is the only part of the air fryer that is NOT dishwasher safe.  It's what allows you to program the unit to either air fry, roast, reheat, or dehydrate foods.  It has a timer built in and this is the unit that plugs directly into the wall.
CERAMIC COATED BASKETThis is the 4-quart basket where you place all your food in. You can place 2 pounds of french fries in this. This is big enough for me and even a few other friends, and as I mentioned earlier, if you have a larger family to feed, then the A161 model has a 5.5-quart basket.
CERAMIC COATED CRISPER PLATEThis dishwasher-safe crisper is what allows air to travel seamlessly through the air fryer and gives all your foods that amazingly crisp texture all around.
MULTI-LAYER RACKThis rack allows you to increase your dehydrating capacity. I also use it sometimes to cook two foods in the air fryer at the same time. For instance, I'll place french fries on the crisper plate, while adding chicken nuggets to this rack above the french fries.
---
Thousands & Thousands Of 5 Star Reviews
There's a reason over 15,000 people on Amazon have rated this Ninja Air Fryer with a perfect 5 star rating. I would be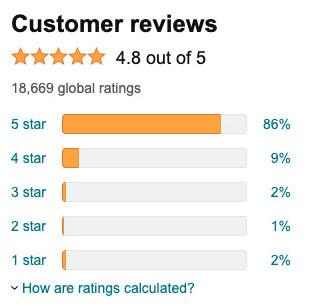 willing to bet that a lot of these reviewers tried foods from their own friends' Ninjas, and then went out and bought their own.
This has happened to me 4 times already. What other product can you think of where your own friends try it out at your house, and they go out and buy it themselves cause they're so blown away by how good the food is? This Ninja Air Fryer does that. It's an appliance you don't really have to convince anyone as to how great it is. Just cook something in it and give it to your friends. They'll be asking you how you made such delicious foods.
I used to do this with Tortilla chips. I'd make the tortilla chips ahead of time before my friends arrived, and then leave them in a bowl, as if though I purchased them from the grocery store. And later on my friends show up and start eating. Their reactions are amazing, especially when they find out the tortilla chips were made in the air fryer. I did the same thing with donuts.
CLICK HERE TO SEE THOUSANDS OF 5 STAR CUSTOMER REVIEWS
---
Foods You Can Cook In It
Want some quick and easy recipes you can make in the Ninja? Here's an article with 5 simple recipes that you can cook in the air fryer. I could go on and on about the different foods you can prepare in it, cause I'm always experimenting with new ideas.

Here's a list of some of my favorites:
Homemade French Fries
Frozen French Fries
Breaded Chicken Breast
Breaded Pork Chops
Chicken Wings
Egg Rolls
Potstickers
Mozzarella Sticks
Brussel Sprouts
Asparagus
Homemade Tortilla Chips
Homemade Donuts
Taco Bell Crunchwrap Supreme
Chicken Nuggets
Hot Dogs
Meatloaf
And this list just came off the top of my head in less than 2 minutes, as I'm thinking of all my favorite foods to make in the air fryer. There are so many more too, and what I've learned is that some foods that are normally super high in fat and calories, can easily be made in the air fryer without all that extra oil.
So, foods that you'd normally consider to be really bad for you, are not nearly as bad any longer, but they still taste amazing as if though they were prepared in a deep fryer. This is probably exactly why air fryers have become so popular.
---
Perfect For Health Nuts Who Want Bad Food
It's true.  It is the perfect device for those of you who are health conscious but want bad foods.  You've landed on a health and wellness website where I help people learn to lose weight and get into shape by
eating at a calorie deficit. Are you looking to lose weight, drop fat, or cut calories?
Dieting sucks, cause it's so restrictive. The air fryer makes it possible to eat foods that you love while cutting down on calories and fat while actually hitting your weight loss goals.
You can throw in a piece of chicken that you breaded yourself and throw it into the air fryer with minimal oil. So, you're saving yourself a good 60 – 120 calories rather than frying it up in a pan, where a lot more oil is needed.
And it's not only that. It actually tastes way better air-fried anyway. It'll mess with your head, cause the food that tastes this good shouldn't be good for you, but that is the beauty of the air fryer.
---
A Perfect Investment For The Kitchen
I wrote this Ninja Air Fryer review in hopes that you have a much clearer picture of what to expect if you were to purchase one.  I've owned mine for over 2 years, and I use it every single day of the week. I'm often experimenting with new foods to try making in it as well.  Here are just a few air fryer recipes I love.
This is the breakdown of what this article discussed:
Ninja Air Fryer Functions
Ninja Air Fryer Construction & Cleaning
5 Star Customer Reviews For The Ninja
Foods You Can Cook In The Ninja Air Fryer
Why The Ninja Is Perfect For Health Nuts Who Want Bad Food
As far as quality, construction, reviews, taste, and unique functionality go, the Ninja Air fryer is definitely my choice and what I suggest to anyone who is in the market to buy an air fryer for themselves. You'd be amazed at how something that seems to be a convenient appliance to have, quickly turns into a necessity that you can't live without. I heard that from various other customers, but I didn't believe it until I owned one for myself.
CLICK HERE TO VIEW THE NINJA AIR FRYER ON AMAZON
Are there any foods you make in the air fryer that you absolutely love? I'd seriously love to know, as I'm always wanting to experiment with cooking new foods. If you have any questions or comments, please leave them below. I'd love to know your thoughts and I'll make sure to get back to you as soon as possible. Thank you so much for reading!