This Kinobody Greek God Program Review will give you an overview of the program and break down the essential components of it so you know exactly what to expect if you were to dive in.
You can absolutely transform your physique in a matter of months if you follow all instructions to a T. It's called the Greek God program because the goal is to get you into Greek God Shape.
I discovered Kinobody and its programs in the midst of the pandemic in 2020, and I couldn't be more grateful for this discovery. It was the first time in my life that my body truly transformed due to a simple workout program, where all others failed.
While I haven't personally followed the Kinobody Greek God Program yet, I do know the ins and outs of it, and I personally know many who have found great success with the it.
All Kinobody Programs Are Powerful
You see, there isn't a single workout released by Kinobody that doesn't absolutely kick your ass.
When I say I haven't followed Greek God YET, it's because most guys in Kinobody programs follow a path as their bodies change.
When I began this journey, my physique wasn't ready for this workout, because I had significant fat to lose.
Not For Skinny-Fat Body Types
Having a "skinny-fat" body type, I dove straight into the "Movie Star Bodyweight Program", which replaced the popular Warrior Shredding Program for getting a chiseled physique. You can learn about that here.
I mention all this because it's an important question you should ask yourself if you're considering diving into The Kinobody Greek God Program.
What's your body type and is this the right workout program for you?
If you're not sure, there's a quick physique quiz below.
That will really determine which direction you should go to start transforming your physique.
Whether it's Greek God to pack on muscle or Movie Star Body to strip off body fat and get defined, they're both fantastic programs.
Without further ado, I'll break down exactly what you can expect in this Kinobody Greek God Review.
---
Please note, this post contains affiliate links & I may earn a small commission when you click on the links at no additional cost to you. I full-heartedly believe in this program and as an affiliate, I earn from qualifying purchases.
---
Kinobody Greek God Program Is Designed For Skinny or Average Body Types
If you're skinny and are looking for muscle growth or consider yourself to be in average shape with minimal fat to lose, then, of all Kinobody programs, I'd suggest getting started with Greek God.
The goal of this training program is to help you pack on 15 pounds of pure muscle.
This all happens in only a matter of months.
Take A Quick Physique Quiz To Determine If This Program Is For You
If you don't know your body type, you can take this quick physique quiz.
I wouldn't suggest the Greek God program to anyone who has extra stubborn fat they're still looking to burn off. If that's the case, then your best bet is to start with Movie Star Body.
Once you've achieved your desired leanness with that program, then transitioning into the Greek God routine would make sense.
This is what a lot of guys in the Kinobody community do.
Quick Breakdown of Movie Star Body vs The Greek God Program
Movie Star Body will help you build lean muscle while losing fat simultaneously.
You'll get a proportionately defined and toned look, which is exactly what I was after.
But, you won't get huge.  Actually, I take that back, because some people have done very well with getting bigger on Movie Star program.
I know a few people who turned Movie Star Body into a great program for bulking, and what they did was simply add resistance to their workouts.
This was done by using weighted vests and other pieces of gear.
Of course, you've got to be eating at a calorie surplus in order to pack on the pounds with bodyweight training.
I did the same and I'm very happy with the results.
But back to to the Greek God program.
If you're skinny or average, then Greek God is a better fit for you since you're not looking to burn off excess fat.
The Greek God physique is all about packing on the lean muscle and getting bigger.
---
The Workouts Of Kinobody Greek God Program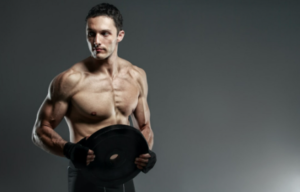 Kinobody's Greek God Program is designed for those who have access to the gym or a home workout station.
You'll be utilizing weights, benches, machines, dumbbells, and barbells. The workouts are 3 days a week.
Workouts Are 3 Days A Week
While this may not seem like a lot, the exercise routines themselves are intense, and your muscles need ample time for recovery.
Most everyone I know who moved from working out 5 to 6 days a week and transitioned into Kinobody programs, saw substantially better results working out less often.
These are the same people who used to go to the gym 5 – 6 days a week.
Working Out Less Often Gives You Better Results
I noticed far better results for myself in the Movie Star Body program working out only 3 days a week, compared to what I used to do, which was a good 5 – 6 days of training.
You've heard it before. "Less is more", and it's especially true when it comes to any Kinobody workout.
In fact, Greg O' Gallagher, the founder of Kinobody instills this into your head so often, because he wants to really help people get into their best shape in minimal time.
The workouts themselves in the Greek God Program are designed with an insane amount of attention to detail in each and every exercise.
The Greek God Program includes workouts such as:
squats
deadlifts
bench presses
pull-ups
curls
rows
weighted sit-ups
and a lot more
You'll have access to videos that show you exactly how to do each and every workout.
Greg O' Gallagher, the founder of Kinobody treats every one of his programs like a science. He tests and tests again until he's come up with the perfect formula of workouts back-to-back that will give you optimal results in the shortest amount of time.
Every Workout Has Been Fine Tuned To Give You Optimal Results
It's not just that working out and lifting weights is important to gain muscle mass.
It's the research and science behind every workout routine that makes Kinobody programs so incredibly powerful.
This is why you see such crazy transformations by ordinary people.  It's why people wonder, "is Kinobody legit?"
The sets, reps, and rest times of every Kinobody exercise are dialed in with ultimate precision.
It may not seem like much on the surface, but when you dive into the program, you'll begin to notice the shape and definition of your muscles actually changing over the course of just a few weeks.
Designed Specifically For Muscle Growth & Weight Gain
This is especially true with the Greek God Program.
This program is designed to pack on pounds for ultimate muscle gains and lean definition.
I see the definition in my own physique change with each new Kinobody workout variation.
What I love is that I now know how to get back to a previous version of my physique if I want to.
You Have Complete Control Over HOW Your Body Changes
When you really absorb the Kinobody workouts and follow them to a T along with having your nutrition dialed in, you'll learn new things about your physique that you didn't even know.
It's almost as if you have complete control over how your body changes.
This is due to the incredible focus Greg O'Gallagher puts on very specific muscle groups each time he designs a new routine.
Designed With Hollywood Actors In Mind
When he designed the Greek God Program, he had a very specific physique he wanted guys to aspire to have.
He used Hollywood actors such as Brad Pitt in Troy as an example of the goal he has for you and what you can achieve with your body.
And truthfully, you'll find lots of guys in the program who started off super skinny and got pretty damn close to that physique.
---
The Kinobody Greek God Program Diet
Arguably the most important aspect of the Greek God Program is your nutrition.
This is also true for all other Kinobody programs.
A lot of people want to skip this part.
I understand, but it's really a make or break situation.
Food Is Literally The Fuel Needed To Make Kinobody Work For You
Food is literally the fuel your body needs in order to make maximum muscle gains.
Following the nutrition protocol properly is the difference between success and failure.
Following the nutrition plan exactly as its laid out will pack on lean muscle in a matter of months, assuming you're following the training as its laid out too.
Eat More Food To Pack On Pounds Of Muscle
I've seen guys numerous times come around only 6 months after starting Greek God or the Superhero bulking program with an extra 15 – 20 pounds of lean muscle packed onto their bodies with minimal fat gain.
Getting the nutrition aspect wrong or not taking it seriously will deprive you of the energy needed to push through the workouts.
No One Wants To Pack On Body Fat
No one I can think of wants fat gain.  Following the nutrition protocol of the Greek God Diet is crucial so that doesn't happen.
By not doing so, it could result in slabs of extra fat being added to your body.
So, your nutrition needs to be dialed in and taken seriously.
A Lot Of Guys Who Bulk Get It Wrong
A lot of guys who bulk on other programs get this wrong, and they end up getting bigger, but in all the wrong places. This is cause calories are not dialed in properly.
Sure, you CAN overeat, and get bigger, but you won't develop a well proportioned and muscular body, which is the idea behind the Greek God physique and the purpose of this program.
Luckily, all Kinobody programs take nutrition very seriously.  You're required to dial in your calories so that you know exactly what you should be eating every single day.
There's No Need To Diet – Just Track Your Calories
This is actually simple and fun to do. There is no "diet" in Kinobody.
You eat what you want, as long as you hit your protein and calories daily.
When you join the private Kinobody FB group, you'll quickly come to realize just how passionate everyone is about this.
If you pay close attention, you'll see that the guys who get the most transformational results are the ones who take this part to heart.
It's literally the make or break point and the determining factor of whether you develop a lean and chiseled physique and truly get the transformation you're after.
Eat What You Want
This whole "calorie counting" thing used to intimidate me, and I always shied away from it.
But the moment you confront this and make the decision to take this part seriously, you're going to fast-track your way to an amazing transformation.
Your success with this has nothing to do with restrictive dieting. Just hit your protein and calories daily.
Eat pizza and cake if you want to.
You'll still gain muscle and get great results.
And that really isn't an exaggeration either.  It took me a long time to wrap my head around it.
You can eat what you want, and still get the results you're after.  It's one of the main reasons Kinobody programs are so successful.
Lean Bulking Means Eating More Food
One other thing I'll leave you with in regard to nutrition with the Greek God Program is this.
The great thing about it is that you're bulking anyway, meaning you're eating beyond your maintenance calories in order to gain weight.
So, you'll feel like a king regardless as far as eating goes, cause the requirement is to eat more anyway!
---
Kinobody Greek God Program Testimonials & Results
Below are just some screenshot testimonials of people who have gone through the Kinobody Greek God Program and gotten amazing results from it.
Inside the private Facebook community, you'll meet many others who have also gone through the program and seen tremendous muscle growth and transformed their physiques in only months.
---
Kinobody Greek God Program Review – In Summary
The Kinobody Greek God Program is one of the most popular Kinobody routines because of its amazing success rate.
The programs Greg O'Gallagher has designed have the best transformation ratios of any other workout programs out there.
Why Are Kinobody Programs So Successful?
I personally believe it's because all the over-complicated crap that the majority of the health & fitness industry throws at us is completely eliminated.
We live in a world where we're bombarded by so many different advertisements on how to lose weight and build muscle.
It becomes overwhelming.
Kinobody programs are simple to follow.
And they just work.
The Greek God Program Makes Building Muscle Comprehensive and Simple.
It works around your schedule, so you get to still live your life and be human.
I think it's one of the biggest reasons so many other workout routines and diets fail so miserably.
Most importantly, people get real results in a matter of months.
This is why so many people, including myself, stick with Kinobody programs for years.
My Personal Journey with Kinobody Was an Incredible One.
First off, I didn't know I had too much body fat to lose in the first place.
After three months of following the Movie Star Body Program, I dropped 15 pounds and 3% body fat.
Movie Star Body is a replacement for Warrior Shredding Program, which was very popular too.
Aside from dropping weight and body fat, I also went from a 32 to a 30-inch waist.
This all happened in a matter of 3 months.
This was baffling because, for years, I followed various workout and nutrition programs.
I wish I knew about Kinobody training programs long before I discovered them, but I'm just glad I have.
Stop Running Into Brick Walls & Watch How Kinobody Can Transform You
I mean that sincerely from the bottom of my heart.
And it's not just your body that transforms, but your mind and spirit, because when we feel confident in our bodies, it changes our thinking and our confidence as well.
It's really hard for me to advocate for any other programs.
It's amazing when you try a program you had no expectations of, and then actually get the results you've been looking to achieve after years of hitting brick walls.
At the moment of this writing, I'm following a lean bulk, and I've gained about 6 pounds in the past few months.
So, right now is the perfect time for me to dive into the Kinobody Greek God Program.
However, I'm currently finishing up a round of The Movie Star Body Dip Routine which is a hybrid version of the bodyweight program that includes weights.
So, Greek God will likely enter the picture for me at some point in the near future.
The Superhero Bulking program is another popular Kinobody routine that focuses on building muscle with minimal fat gain.
CLICK HERE TO LEARN MORE ABOUT THE KINOBODY GREEK GOD PROGRAM.
I hope you found this Greek God Program review to be helpful. If you have any questions or comments at all, please leave them below and I'll be more than happy to get back to you as soon as possible. Thanks so much for reading!