The best Ninja air fryer that I've personally used is the 4-in-1 AF101. I've owned it for 2 years now, and even with so many different models and brands of air fryers that have come out since then, it's still listed as "Amazon's Choice" under best air fryers.
Now, you will almost never see a product that has exclusive 5-star reviews. But this product is an exception. Not only that, but it has over 14,000 raving customers, and that's just on Amazon.
Check Out This Ninja Air Fryer On Amazon Here
I don't make purchases based on reviews either, cause I'm sure a lot of them are fake or incentivized. In fact, I always run an Amazon product through ReviewMeta before making the purchase just as a precautionary measure.
But let me tell you…I've owned this Air Fryer for two years as I mentioned above, and I honestly don't know what I would do without it. It's spacious, simple to use, and it makes delicious foods.
This blog focuses heavily on health and nutrition, and if you are even remotely interested in eating more healthily, then this
air fryer is a no-brainer. Also, Ninja is a top brand with exceptional customer support.
When I got it as a Christmas gift, I wasn't even all that excited about it, probably cause I hadn't actually made any food in it yet. Also, I was a little concerned that it was going to be one of those appliances that just took up space. I hate clutter. But fast-forward two years. I seriously don't know how I would cook food without it anymore. I use it every single day. If this thing broke, I would purchase it in an instant without a single bit of hesitation.
I've seen other cheaply made air fryers out there. Many people talk about the problems with them chipping over time, and being difficult to wash, among other problems. I've never had any issue with mine. It washes easily, cooks wonderfully, and it's all in one piece.
Here are the details:
---
Product: Ninja Air Fryer (AF101)
Price: $99.99
Cheapest Place To Buy: Amazon.com
Capacity: 4 Quarts
Functionality: 4 Functions
My Rating: 10 out of 10
---
But let's get to the benefits of this Ninja Air fryer. Oh man, this is gonna be an exciting article to write, and I'm pretty sure my enthusiasm is gonna spill all over the place. I apologize, but I really do love this thing. So, here we go.
---
Please note, this post contains affiliate links & I may earn a small commission when you click on the links at no additional cost to you.   I use this air fryer every single day, and as an affiliate, I earn from qualifying purchases.
---
Everything Tastes Amazing
I swear I could write a recipe book of all the different foods I've cooked inside this thing. And what's crazy is I still haven't
even experimented with its "dehydrate" or "roast" functions. I started with trying the basic stuff they tell you to make in an air fryer. You know, like french fries and chicken wings.
I make french fries in it all the time cause they're insanely good. I should mention this air fryer comes with a recipe book with 20 different recipes to help you get started.
I think one of the very first foods I started making regularly in my air fryer was pork chops. I couldn't get over how they tasted like they were actually fried. Then I started breading the pork chops with panko crumbs, and they tasted even MORE amazing, cause now they had this extra crunch to them.
It's almost mind-boggling how the food is so crispy on the outside, but so tender and juicy on the inside, and while using very little to no oil at all.
Since my innocent pork chop air fryer beginnings, I've made air fried chicken, both drumsticks and chicken breasts. I've made meatloaf, pizza, and mozzarella sticks.
Actually…why am I writing this all out in paragraph form? Let's make this easier on your eyes and drop some bullet points so you can see a clear list of some foods I've made in the air fryer that taste incredible:
fried chicken drumsticks
fried chicken breasts
pork chops
meatloaf
asparagus
brussel sprouts
french fries (out of the bag)
french fries (fresh potatoes)
sweet potato fries
fresh tortilla chips
pizza
calzones
potstickers
chicken wings
egg rolls
homemade donuts
homemade bagels
and a lot more…
This list is literally just off the top of my head. But really, I've thrown so many different foods in this air fryer, because they all taste amazing, and in such a short time.
Oh, and another thing the air fryer does exceptionally well is reheat foods that you have as leftovers. For instance, if you've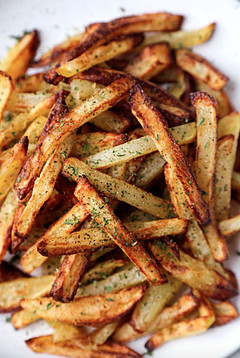 got a burger and fries from a fast food restaurant that you want to heat up. Definitely reheat in the air fryer and NOT a microwave. For me, it returns the food back to how it tasted right when you ordered it.
I've come to learn that almost everything I throw in there is just fine if I preheat it to 390 degrees for a few minutes. Then I cook for a few minutes, shake the air fryer basket. Repeat…and within about 5 – 15 minutes, you've got crispy amazing food. Also, the amount of work you do to prepare foods in your air fryer compared to baking or frying, is extremely minimal.
In fact, I almost never use my oven for anything anymore, whereas I used to cook everything in there. It just all tastes better in the air fryer. And personally, I love the "fried" taste better than the "baked" taste. I don't even use my own stove nearly as much as I used to, except to cook eggs really.
I actually don't even use a toaster anymore because the air fryer toasts bread for me, so I've wiped out my toaster oven and toaster, and replaced them both with this.
Okay, I hope I did a decent job here explaining the amazingness of foods in the Ninja :).
---
Everyone You Know Is Gonna Want One
I'm not even kidding. This happened to me, and I've purchased this exact same air fryer now for a few different people. It's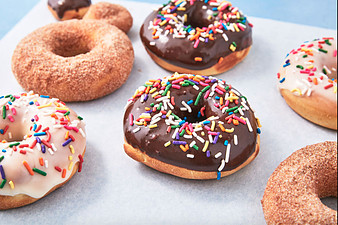 funny how something becomes so popular just from word of mouth. This is one of those situations.
Here's why everyone else will want one. You have a party and people come over to hang out. You decide to make some foods for them. I remember one of the first things I surprised friends with were donuts. They're really easy to make if you google "how to make donuts in an air fryer".
People are baffled. How on earth did you make donuts right before I arrived?
I think the true winner of party foods though is tortilla chips. You can buy a bag of tortilla chips at the grocery store for $2.99 or something, right? Well, you can make fresh and delicious tortilla chips for 70 cents.
I do this sometimes and people devour every last bite of them. This is actually what started getting some of my friends to really want one of these. It was after they experienced 3 or 4 different types of foods from the air fryer.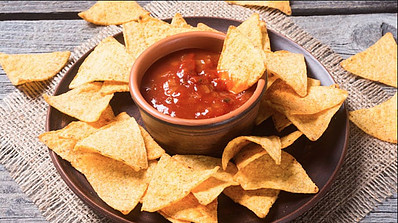 Woah! French fries are amazing! I can't believe you made these tortilla chips from scratch! How on earth did you make donuts in this thing?
My best friend, however, was sold on the air fryer, after he had asparagus. Yeah, a vegetable! Asparagus is one of my favorite vegetables to cook in the air fryer.
And yeah, having people over to try some of your air fried foods, or bringing some of your air fried goodness to another party…it gets people talking. Aside from me gifting this air fryer to a few people, some of my friends went out and bought their own.
---
So Quick And Easy To Use
It makes cooking life incredibly simple. You literally throw food into it and it's ready in no time. And then in no time, you have amazing food.
Most everything I prepare in the air fryer is super fast. You just preheat it, prepare your foods, and throw it in the air fryer.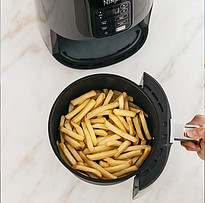 It's convenient in the same way that a slow cooker is convenient, in the sense that you don't really have to think too much about what you're throwing in there. You can just be confident that it's going to cook and it'll cook deliciously well.
If there's any work you have to put into cooking, it's that after a few minutes of cooking chicken breast for instance, you just pause the air fryer for a moment, and flip the chicken breasts. The same goes for pork chops or other meats.
When it comes to foods like french fries, tater tots, or even asparagus, I just stop the air fryer after a few minutes, pull the basket out and shake it a bit just to mix up the food. Then I put it right back in for another few minutes. I do this until the foods look nice and crispy.
This air fryer is dishwasher safe, and it's easy to wash even without a dishwasher.
---
Super Healthy – Cut Down On Fat
This may be one of the biggest advantages to me. I cook a lot of foods in the air fryer without any oils at all. This saves a ton of calories over time, and you're getting to eat foods that taste just as delicious as they'd be from a junk food
restaurant.
That's what makes this little device so deceiving. You're eating healthy food that doesn't taste healthy! So, it just makes eating very fun and it makes you want to learn more ways to cook.
If you're looking to lose weight or drop body fat, the key is to eat in a calorie deficit. This air fryer makes that so much easier.
Remember, if you use one tablespoon of oil to fry up chicken in a pan, that's an extra 120 calories you're adding to your day. But in an air fryer, you can literally just coat the chicken with maybe a half teaspoon of oil, and get better tasting food than you would have by cooking it in the frying pan.
You've just saved yourself 100 calories by using the air fryer instead of the frying pan.
---
Spacious With Multiple Functions
In case the size of the air fryer is important to you, I can successfully put 4 chicken breasts in it at once. I can cook 4 pork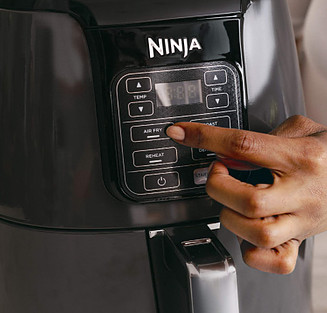 chops in it, even though it's a tight fit, it will still cook all the foods evenly. This air fryer comes with a 4 quart basket.
It also comes with a multi layer rack which is said to increase your dehydrating capacity. I've personally used it to cook fries above the meats I cook below it.
Speaking of the dehydrating capacity, this is one of the functions of the air fryer that makes it truly unique. I haven't yet used this and I need to. You can use that dehydrating function to make homemade beef jerky. You can also make apple chips, potato chips, banana chips, granola bars, and a lot more.
I'll be honest, I haven't used the "roast" function. Also, I've used the "reheat" function a few times, but then realized I can get similar results with just the original "air fry" option.
The "roast" function is ideal for cooking tender meats and baked treats. Apparently, the roast function will give you similar results to what you might get in an oven if you aren't looking for that crispy exterior of food.
I want to mention something about size here…if you need more space in an air fryer than the 4 quart basket of this one, then the Ninja AF161 might suit you better, since it has a 5.5 quart basket and can cook a full extra pound of food.  You can learn about that one right here.
Best Investment I Ever Made For My Kitchen
The AF101 is the best Ninja air fryer for all the functions you're getting. It's also a top seller on Amazon and Amazon's
choice of air fryers…since purchasing it, I now have several friends who own this exact same air fryer themselves, and they also love it.
What's interesting is that the same friends who now have this same air fryer use it religiously. It's one of those things…when you first get it, you don't really see why it would become an essential part of your kitchen. That is until you begin to use it, and start to understand just how powerful and useful it is.
I know I've raved about it a ton in this article, and it's cause I truly love this thing so much. But don't just take it from me.
Click here to see reviews from thousands of happy Amazon customers.
What experience do you have with an air fryer? Any foods that you swear taste amazing in it? I'd absolutely love to learn what you've tried in terms of cooking and experimenting with it. I'm gonna be trying the dehydrating function very soon, but I feel I'm still just having so much fun cooking so many new foods simply using the air fry function. If you have any questions or comments about this at all, please leave them below and I'll make sure to get back to you asap. Thanks so much for reading!