Pasta dishes can be flat out addictive. When I'm in the mood for Italian food, it can be the most satisfying and delicious carb on earth. Throw in some meatballs, pasta sauce, cheese, and warm crusty bread, you've got yourself an amazing meal.
However, when you're eating at a calorie deficit, pasta poses a bit of a problem, because you can easily go over your daily calorie budget. So, this article will share with you the best low calorie pasta on Amazon, and you may be pleasantly surprised.
Most people on any kind of low carb diet avoid pasta like the plague. It's not only high in carbs, but also in calories and it happens to be one of the least satiating foods. As a result, many manufacturers have created healthier versions of it.
You can actually eat a wonderful pasta dish that contains a minimal amount of calories with these options below. You'll notice some of these brands cut down on the calorie count dramatically. I was surprised myself when I tasted it, and it was actually good.
I had no idea this kind of low calorie pasta alternative existed until my best friend started eating at a calorie deficit himself. You can learn about it here. He lost 30 pounds in just a few months following this exact technique. So, I learned about new foods. One of them is Pasta Zero, which you'll find on this list.
So, the great thing about these is that those watching their calorie and carb intake can enjoy pasta again. If you would like to give it a try, here are some of the best low-calorie pasta options on Amazon.
---
Please note, this post contains affiliate links & I may earn a small commission when you click on the links at no additional cost to you. As an Amazon affiliate, I earn from qualifying purchases.
---
Fiber Gourmet's Light Penne
1 Serving = 100 calories
Full Package = 400 calories
Tagged as Amazon's number 1 best-seller in the Penne Pasta category, it is not hard to see why many people love this product. First of all, it has more than 50% fewer carbs and calories than regular penne, and it tastes surprisingly similar.
Second, this particular brand has 25 grams of fiber per serving, compared to the standard pasta that only has 2 grams (if you're lucky, and some others have less). On top of these great health benefits, this pasta is non-GMO, has no artificial colors, and is a great option for vegans.
Most buyers who gave this brand a positive review mentioned how the taste and texture are similar to that of standard pasta.
VISIT FIBER GOURMET PASTA ON AMAZON HERE
---
Palmini Low Carb Angel Hair Pasta

1 Serving = 20 calories
Full Package = 60 calories
This low-carb alternative to Angel Hair pasta only has 20 calories and 4 grams of carbs per serving. It is made from Hearts of Palm – a vegetable taken from the palm tree's inner core.
This brand is a great option for those who are vegan & vegetarian. It's also keto and paleo friendly. The product is both sugar and gluten-free. If you are environmentally friendly with your food choices, this manufacturer promises that raw materials are harvested using sustainable methods.
VISIT PALMINI PASTA ON AMAZON HERE
---
YUHO Konjac Noodles in Angel Hair Pasta

1 serving = 5 calories
Full Package = 40 calories
Food experts have considered Shirataki Konjac Noodles as a miracle product, and for very good reason. This mild tasting brand of Konjac Noodles is amazingly low in calories and carbs, and is also fat free and sugar free.
Cooking these noodles makes any dish even more delicious because they absorb flavor easily compared to other types of pasta. These YUHO Konjac Noodles have received many fantastic reviews that specifically mention one of the great benefits of this brand is how filling the pasta is.
VISIT YUHO KONJAC NOODLES ON AMAZON HERE
---
Nasoya Pasta Zero Shirataki Spaghetti
1 Serving = 15 calories
Full Package = 30 calories
This product is another Shirataki pasta that promises a light and filling meal. This brand is actually what my best friend has been buying since he started watching his calories. I tried it myself and was very surprised at how good it was.
Pasta Zero has a new and improved formula that's fortified with iron. It's a low-carb pasta with only 15 calories and 4 grams of carbs in every serving. Each individual bag has 2 servings, so the entire package is only 30 calories.
Just like with any other brand of Shirataki Konjac noodles, it's important that you drain and rinse thoroughly before cooking them. They must be boiled first for two minutes before use.
Many of the positive reviews on Amazon stress how this brand meets their special dietary requirements.
VISIT PASTA ZERO ON AMAZON HERE
---
Low Calorie Pasta In Summary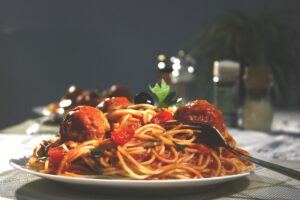 These are some of the best low calorie pasta on Amazon, and they're a fantastic way to help you stay on track if you're eating at a calorie deficit or following any kind of diet that requires you to cut down on carbs
As people are looking for ways to be more health-conscious, it's great to know that these alternatives will allow them to give into their food cravings while staying on track to their fitness goals.
These alternatives to standard pasta are now readily available through Amazon. My friend who has been eating Pasta Zero since he began his calorie deficit purchases them in bulk because they're far more affordable that way.
If you're looking for a recipe using Shirataki pasta, here's a low calorie version of Chili's Cajun Chicken Pasta.
If you're looking to lose weight, and aren't sure whether you should be going the low carb or low-calorie route, here's an article that explains the difference between the two approaches to weight loss, and which one will actually help you drop the fat and keep it off in the long run.
I hope you found this article to be informative. I'd love to know what you think of these low calorie pasta, and which is your favorite. If you have any questions or comments at all, please leave them below. I really appreciate you being here and I'd like to thank you for reading.