My work out goals have always been the same.  I just want to get my work out in.  I want to do it efficiently, get done with it, shower, eat dinner, and get on with my day.  The best home pull up bar in my opinion isn't anything fancy schmancy.  It's just a simple bar that you screw into your door frame.  That's it.  Sunny Health & Fitness makes an awesome one.  It's not a name brand but it does the job.
The first pull up bar I bought was one of those door mountable ones.  You know what I'm talking about?  The ones that hook over your door and a lot of them have fantastic reviews on Amazon.  However, it wasn't a great investment for me.
My house is pretty old, and the doors are old, and the main concern I had was – how on earth will this bar hook above the door frame without getting loose and falling off or ripping apart a piece of the wall.  BTW, if it DID fall off while I'm doing pull-ups, that means I would ALSO fall and crash to the floor.
It seems that with these pull-up bars, you can actually do multiple variations of exercises, which is pretty awesome.  I had full intention of installing it in a door frame.  You're supposed to rest the rear horizontal piece on your door frame, which I did, and it wouldn't stay in place, and the instructions I was reading didn't fully explain exactly how to keep this in place.
I just threw it out and I hate throwing anything out…I lost a small piece that came with the bar and didn't even bother attempting to return it to Amazon.  But enough of a pull-up bar that doesn't exist anymore.  Let's talk about the one I think is pretty awesome, affordable, and does the job, especially if your goal is to get an awesome workout in.
---
Please note, this post contains affiliate links & I may earn a small commission when you click on the links at no additional cost to you.   I use the Sunny Pull Up Bar regularly and as an affiliate, I earn from qualifying purchases.
---
Simple, Sturdy, & It Works GREAT
The pull up bar I've been using for years isn't fancy.  In fact, it's so UNFANCY that I don't even know what the brand is.  Let me check right now in my Amazon purchases.  Ok, it's called GoFit.  It's not available on Amazon at the moment, but my roommate bought the Sunny Health & Fitness Chin Up Bar in 2020, and it's pretty much identical to mine.  I can attest to this because I've personally used it myself and looked it over from all angles.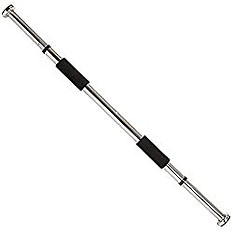 There's nothing fancy here.  It's just a metal bar that you screw into your door frame.  There aren't any bells and whistles, and I don't mind at all, cause it does the job I'm looking for.  It's perfect for doing chin-ups, pull-ups, sternum chins, side to side hanging knee-ups, hanging leg raises, and a whole lot of other exercises I haven't done yet.
I think the most amazing thing about the bar is that it's super sturdy.  You can feel it while you're doing pull-ups.  It won't budge.  I don't know about you, but there's an element of fear about using your entire body weight to do exercises with a piece of metal that you installed yourself.  I mean, I guess the biggest fear is it will rip down and you'll crash to the floor.
But this thing is STURDY.
---
Install On Door Frame = Years Of Use
As I mentioned earlier, the Sunny pull up bar my roommate bought is almost identical to mine, and he installed it in 5 to 10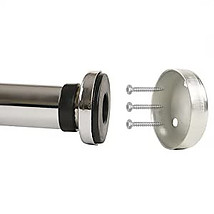 minutes after removing it from the box.  I remember it taking about that long for me too and I HATE installing stuff.
If you give me any kind of Home Depot type project, I'll run the other way and never complete it.  There's something about having to "install" or "screw into the wall" type of thing that makes me want to just forget whatever it is and go take a nap.
BUT, I DID install mine in 2013 and it still does a fantastic job for any pull-up or chin-up bar workouts I choose to do.  These days I'm incorporating new ab workouts that exclusively use the bar, and it works perfectly.  I've followed different workout programs throughout the years and this bar has withheld the test of time.
---
Chin Up Bar Features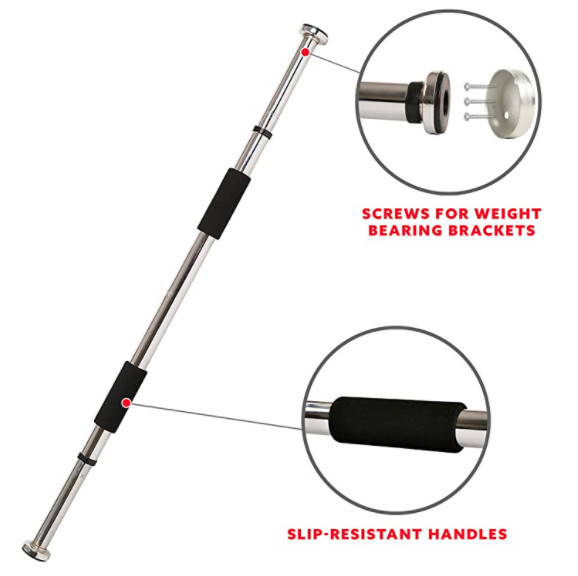 Here are the features of the Sunny Pull Up bar so you know what you'll be getting and if it's a fit for you:
Sturdy, chrome plated steel bar, with a maximum weight capacity of 220 LBS
Non-slip, soft padded hand grips that ensure maximum stability and grip (this is HUGE to me)
Set up literally takes a few minutes
Adjustable lenghth (24.5 inches to 36 inches)
Easy storage – you can set up in almost any door frame and store it away easily
*I want to stress the importance of one of these features here.  The non-slip hand grips are a HUGE deal to me.  It seems so simple, but for the workouts I do, I would definitely slip if those aren't there.  I'm noticing this, especially with my new ab workouts.  I need that sturdy grip to be able to focus on my form, and not the pain of my hands not having support.
---
Some Alternative Bars
You can't really go wrong with the price of this bar, being under $20.  Plus, Amazon has discounts going on regularly.  As of this writing, they're also offering an additional 5% off this pull up bar.
Now, Amazon has other pull-up bars that are similar, and to my eye, they look like fancier, upgraded versions of what I currently own. They're more expensive also.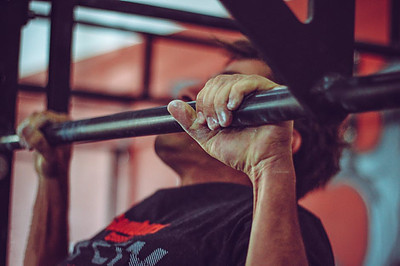 My guess is that some of the other brands are just as good, and possibly even better.  Just in case you aren't that crazy about the boring old bar I've raved about in this article and that I've used without any problems for YEARS, I'll give you a few links to some other bars that have great reviews on Amazon.  🙂
I can't personally recommend any of these bars below because I haven't used them myself, but they do have good reviews.  So, I'll list them for you anyway in case you want to check out alternatives.  These bars are straight, similar to mine.  I'm not listing any versions that you have to hang over your door frame.
Here they are:
---
Simple Bar Is All You Need
To me, the best home pull up bar is the one I personally own.  But I don't have much else to compare it to, cause it's lasted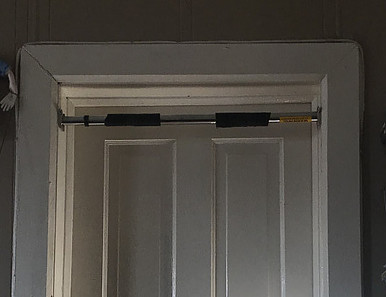 me so long and does the job I need.  I mentioned these additional bars for you to check out just in case you want something more than just a simple metal pull up bar like the one I have.
The one I've got has worked great for my purposes for many years, so I have no intention of getting anything else, but maybe you can convince me otherwise.
Click here if you'd like to learn more about the full home workout program I follow.
It is without question, the most powerful program I've ever followed in my life.
Do you have any experience with home pull up bars?  I'd love to know what's worked for you.  I'd especially love to know what your experience has been with the pull up bars that you hang over your door frames that I've miserably failed to install properly myself.  But any feedback you have could help me better understand the world of pull-up bars and possibly what could be better than my own.  I'd love to hear any feedback or questions, so please leave them in the comments below.  I appreciate you taking the time to read this article!