I built out this site because I've been a health and nutrition nut for so many years that I just decided to put this together, to help you along your own journey to your ideal body and great health.  I also love music, my dog, and exploring the city of Chicago where I live.
MY STORY
My journey to get in shape started in college when I met a wrestler who got me obsessed with health and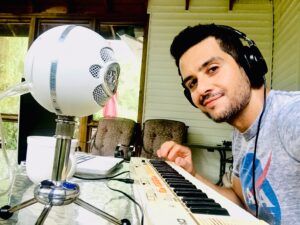 nutrition.  Since then, I've done everything from low carb, low calorie, low fat, all vegan, and so much more.  I've also tried a whole bunch of workouts, and for years now, I've tried to get back to having the same body I had in college, and suddenly, in 2020, I came across some information that completely goes against what I've always believed to be true in order to achieve my ideal body.
It's funny how you can be in a healthy weight range, and other people tell you your body looks good, but you know deep down you'd really like to transform it into someone ripped and lean from an action movie.
I guess a lot of guys want to have the Brad Pitt from Fight Club look, and you know what?  I'm not there, but for the first time since college, I feel like I'm ON MY WAY there, which inspired me.  I love the idea of having a site where you and I can share our own progress towards our fitness goals.
All I did was go against my beliefs about nutrition and exercise to try something new, and shockingly, within 3 months, I felt my body really started transforming in ways that I just haven't seen in years.  I've leaned down, built muscle, and feel incredible, ALL during COVID-19, ALL from home, AND for the first time, while eating whatever the hell I want to eat.  Yes…that means pizza, burgers, fries, and whatever else you want to eat.  Twinkies?  Snickers bars, that's fine.
For years, I was restricting myself to low carb combined with crazy cardio, and always seeing minimal results, which would discourage me.
WHY I WANT TO HELP PEOPLE
I've always loved talking about health, nutrition, and exercise.  You could call me a health nut and an exercise geek.  The exercise and nutrition plan I started doing in 2020 is completely blowing my mind, even right now, so I figured this is the best time to start a website…I've thought about it for years, but now that I'm actually seeing a new transformation, AND following the SIMPLEST steps I've EVER followed to get into shape, I realized I'd truly love to help people learn how to do this.
It's the first time in my life where I'm completely baffled at how my body is transforming in ways I've always wanted to see it change into, BUT, while doing NO cardio, eating burgers, chips, pizza, lasagna, snickers ice cream bars, and whatever else you want to eat.
It's almost as if though looking in the mirror doesn't make sense to me, cause I always thought any kind of progress towards fitness goals involved painfully restrictive diets and endless amounts of cardio.  How can your body possibly burn fat when you aren't working out a minimum of 6 days a week?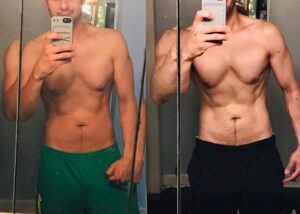 How can you possibly lean down without eating a low carb diet?  How can you realistically build lean muscle working out ONLY 3 days a week, completing 30 – 45 minute workouts?
How on earth did I weigh 153 pounds when I was eating strictly low carb meals, while doing insane cardio workouts 6 days a week (including Insanity), only to have a "skinny fat" body that I wished would get defined…to now, weighing 141 pounds, working out only 3 days a week, eating whatever I want?
To me, it does seem to be somewhat magical, cause what I've learned is the work that actually goes into achieving fitness goals is almost the opposite of what mainstream media teaches us.  It's NOT that hard, and it doesn't have to be ridiculously tedious and something to run far away from.  It can actually be simple and fun.  The journey can allow you to completely enjoy life the way you want to.
I know I don't have a perfect body…far from it.  But I AM happy with where I'm at on my journey, which is what matters in the end.  Everyone has their own goals.  And I want to help people get to a place where they're also happy with their own bodies and self esteems.  Everyone's aspirations are different.
I know just how frustrating it is to try a million workouts and a bunch of different eating routines, and then being completely discouraged and baffled trying to figure out why you're not hitting your goals.
Not only that, but even when you ARE losing weight, why is your body not leaning down in the areas you'd like to see definition in?  I think getting our ideal bodies has a lot more to do with seeing our physiques look a certain way and I'd love to help people achieve the look they want.
THE GOAL OF THIS SITE
The goal of this site is super simple.
I just want to help you get into the shape YOU want to get into and in the simplest way possible.  I'll teach you what I've learned to work for myself and new ideas I continue to learn and implement.  I've helped other friends in just 2020 lose 25 pounds in only a few months, no joke, just by following a fraction of this simple system I explained to them.
I would like to do that for you too.  Maybe you have just a little bit of weight to lose, or you want to tone up and get lean.  It's all possible and I want to help with whatever information I can share with you.  Plus, I'm on the same journey with you.
If you ever need a hand or have ay questions, feel free to leave them below and I will be more than happy to help you out.
All the best,
Paul
SimpleDreamBody.com