There are a number of weighted jump rope Amazon items that can really help you get into great shape. Depending on what
your needs are, one of the jump ropes listed in this article may be just what you're looking for. I'm personally not using a weighted jump rope anymore, although I have one, and I think it's fantastic.
The main reason I'm not using a weighted jump rope currently is cause my regular weekly workout is already intense enough. My main cardio comes from walking 10,000 steps a day. I also jump rope 2 to 3 days a week, but mainly for conditioning purposes, so my sessions are very short – only 10 minutes each.
The awesome thing about weighted jump ropes is that they work your muscles while also giving you a fantastic cardio workout. A regular jump rope will work your glutes, hamstrings, lower back, and shoulders, while a weighted jump rope will do the same thing, but ALSO work your forearms, triceps, and the rest of your back muscles.
In addition to this, weighted jump ropes are 5 times more effective than a regular rope for building your core.
So, here is a list of weighted jump rope amazon products that will definitely help you reach your fitness goals, regardless of what they are.
---
3LB Weighted Jump Rope
You'll get one heck of an awesome workout with this weighted jump rope, considering how heavy it is compared to other ropes. I can't even tell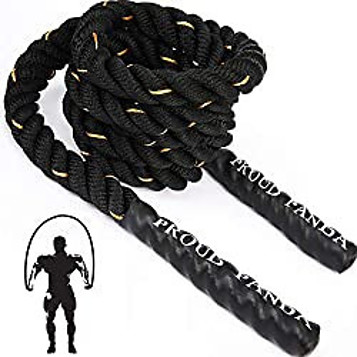 you how much my arms burn after just a minute of jump roping with my own weighted rope, which is two pounds less than this one.
The difference between this rope and a lot of other weighted jump ropes is that the weight is distributed throughout the rope itself, and there are not weights placed inside of the rope's handles. In other words, the entire rope is pretty heavy.
The rope is covered in nylon sleeves to help protect it from friction. The company recommends that if you're shorter than 5″8, to purchase the rope that's 9.2 feet long. If you're taller than 5″8, then make sure to get the 9.9 foot rope.
The rope is made of polymer synthetic fiber, which is high quality material that can withstand years of usage. There's a protective cover on the entire rope, which makes it wear resistant and its handles are easy to hold on to. It's a very thick rope with a diameter of 1 inch.
So, if you're looking for a more intense workout, it does seem that this could be the rope for you. This company has some excellent reviews and feedback for this particular rope as well.
Click Here To View This Weighted Jump Rope On Amazon.
---
1LB Weighted Jump Rope – Non Slip Handles
This weighted jump rope carries its weight throughout the rope, unlike many other weighted jump ropes, which only carry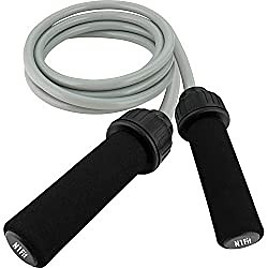 the weight in the handles. Unlike the previous one, this weighted jump rope allows you to adjust its length, so depending on your height, you can make adjustments to make it the right length for your workouts.
If you are shorter than 6″4, you'll want to make adjustments to its length, which is very easy to do.
Its handles are made of memory non-slip cushioned foam. The rope itself is pretty thick and the handles are large, so if you have small hands or joint issues, you may want to take this into consideration when making a purchase. The quality of the rope itself is fantastic.
This rope has hundreds of 5-star reviews from customers who rave about its quality, durability, and overall customer support from the company.
Click Here To View This Weighted Jump Rope On Amazon.
---
0.93LB Weighted Jump Rope – Silicone Grip Handles
This weighted jump rope prides itself on being tangle-free due to its 360-degree precision steel ball bearings located inside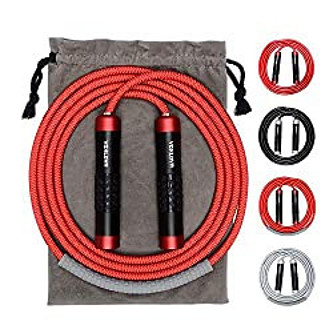 the rope's handles. This ensures that the has a relaxed rotation while you are exercising and it keeps it from getting twisted and tangled up like many other weighted jump ropes.
Like the previous one, this weighted jump rope is fully adjustable as well. Its handles are 6.25″ long, with a diameter of 28mm. This rope has non-slip aluminum handles with a special anodized coating covered with silicone grips to give you maximum comfort.
This also helps protect the rope itself from scratches, cracking, or breaking, while at the same time ensuring a long life span of the rope. The rope itself is a high-density solid PVC cable.
It is covered with two layers of composite fabric which is of high-strength industrial quality. There's a protective cover on the rope itself, which helps protect it if you choose to do your exercising outside or on rough surfaces.
Click Here To View This Weighted Jump Rope On Amazon.
---
1.5LB Digital Jump Rope – Digital Speed Skipping
Now here's where we get to the cool future of jump ropes. This weighted jump rope actually has quite a few different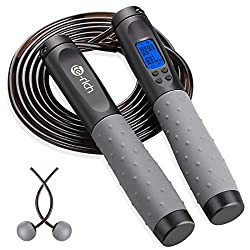 features that you can't find in the previous ropes.
One of this rope's handles comes with a digital backlit LCD screen, which gives you a variety of information. This reading includes your calories burned and it also counts your jumps.
You also have an option to NOT use the rope at all. What this means is you can get your exercise of jumping done without getting all tangled up and tripping over yourself and having some random person on the street witness the embarrassing situation of you lying on the ground in a tangled-up rope disaster. That sounds crazy, right?
What you get to make this work is 2 lead inserts that you place in the handles. So, when you do your workout, it mimics the feeling of actually jump roping with full rope. This is perfect if you don't have a lot of space to get a good jump rope workout in. This is an issue for me quite often as I'll often hit the couch or chair while jump roping. I usually just go outside to jump rope to avoid this. But this is a fantastic alternative.
This rope is made of very durable material. The ergonomic handles are durable and comfortable. Also, the ball bearings are of high quality, so that your jumping experience is smooth and effortless, and even though I couldn't resist the tangled up in a rope joke above, this rope is built to ensure you don't get tangled up and it helps ensure the rope itself doesn't get twisted up as well. It's built to withstand heavy-duty use, so you'll get a long lifespan out of it.
Click Here To View This Weighted Jump Rope On Amazon.
---
Which Rope Is For You?
These are 4 weighted jump rope Amazon deals that all seem to have some excellent feedback from customers. I always
run reviews through Reviewmeta to make sure they are in fact legit.
I chose to write about these four weighted jump ropes because they all stand out from one another for different reasons. Depending on your specific needs, you may want a heavier-duty jump rope like the first one listed. Or, maybe you need more space to do your workouts. In that case, the digital rope with the cordless option may be best for you.
Do you have experience with weighted jump ropes? I'd love to know which you feel is the best option. Maybe you can share some wisdom on effective total-body workouts you can get just using a weighted jump rope?
If you have any comments on this topic or questions at all, please leave them below and I'll make sure to get back to you as soon as possible. Thank you for reading!