If you're looking for the best treadmill desks for walking & working, I'll share with you 4 top rated products you can buy online and the features that make them unique. It's somewhat ironic I'm writing this article right after I ordered my own laptop mount for my treadmill last week.
It wouldn't have been nearly as interesting to write this article had I not realized just how valuable it is to be able to work and walk at the same time. If you've spent any amount of time on this website, you'll know that I walk 10,000 steps a day as it's the best cardio workout I know of to burn 400 – 500 calories daily.
Well, it's pretty amazing to me right now how I'm hitting my 10,000 steps for the day, and it doesn't even feel like it. It's cause I'm working at the same time. Well, that's the beauty of being able to have this stand for my laptop. I'm shaving about 90 to 120 minutes a day doing this. Plus, I'm completely snowed in right now from an insane Chicago blizzard the past 2 days.
So, let's get to the 4 best treadmill desks for working or doing whatever you like, whether that's watching videos, checking email, or reading your favorite books.
---
SmartFitness Treadmill Laptop Desk
The SmartFitness Treadmill Desk has the most involved design of all the treadmill desks on this list. It has bells and whistles built in which could be very beneficial if you want extra features. Made of bamboo, this desk has almost everything you could ask for in treadmill desk.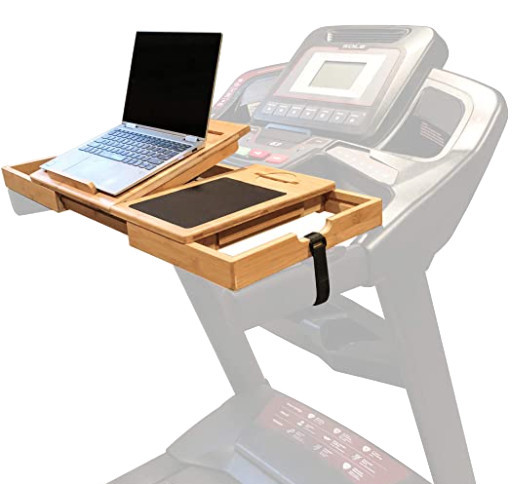 This attaches to your treadmill easily using a non-slip backing. It also folds up for easy storage in between usage. It measures 13.5 inches x 21.5 inches, and it can expand from 21.5 to 36 inches in width to fit almost any treadmill.
You can easily raise the laptop holder for easier accessibility. This is something I found to be very important in recent days using my own mount for my treadmill. It took me a little experimenting to find the perfect height so I could walk and work with ease.
FEATURES OF THE SMARTFITNESS TREADMILL DESK
STORAGE AREA
There is a little drawer on the right side of the desk that allows you to store items in it such as earbuds, pens, paper, and other accessories.
SLOTS FOR OTHER DEVICES
There are additional slots in this treadmill desk so that you can keep your phone or tablet handy.
SAFETY STRAPS
It's nice to know that this treadmill desk comes with safety straps to keep all your items secure while you use the treadmill.
ADDITIONAL FEATURES
You can raise and lower your laptop so that you find the perfect position for your needs. There's also an area on the desk for a mouse pad.
This treadmill desk is a great choice if you have a lot of items that you'd like to keep handy with you during your workout. And even if you simply use this to hold your laptop, it's a very attractive, portable, and sturdy option.
CHECK OUT THE SMARTFITNESS DESK ON AMAZON BELOW.
---
HumanCentric Treadmill Desk
The HumanCentric Treadmill Desk is very easy to put together. You can have it set up and attached to your treadmill within just a few minutes of taking it out of the box. This treadmill desk is ideal for creating a comfortable work space for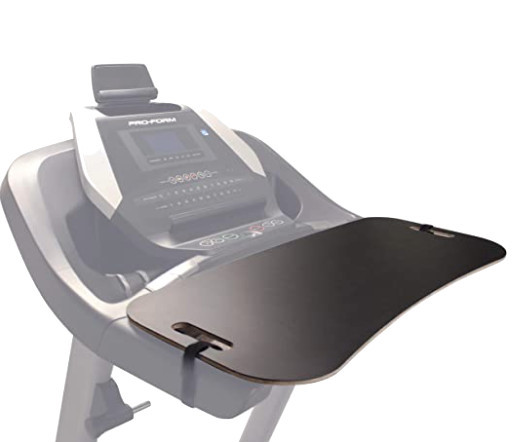 your laptop or tablet.
You secure this desk to your treadmill using secure Velcro straps that come along with it. A great feature of this treadmill desk is that its surface is made of a special premium rubber that keeps your laptop sturdily in place, so that it doesn't accidentally slide off the desk.
This desk fits various treadmill sizes, but please note that if your treadmill has a width of more than 32 inches between the treadmill's handles, this desk won't be supported.
FEATURES OF THE HUMANCENTRIC TREADMILL DESK
EASY INSTALLATIONThis treadmill desk can be installed in just a few minutes straight out of the box
PREMIUM NON SLIP SURFACEThe desk attachment uses a special premium grip rubber so that your laptop or tablet do not slip during use.
UNIVERSAL DESIGNIt can fit various treadmill sizes using the secure Velcro straps that come with it. However, if your treadmill's arms are wider than 32 inches, then it will not be compatible with this desk.
This treadmill desk is great if you're looking for something quick to install and not bulky.
CHECK OUT THE HUMANCENTRIC DESK ON AMAZON BELOW.
---
Vivo Universal Laptop Treadmill Desk
The Vivo Universal Treadmill Desk is unique in the sense that it has an adjustable support bar that can stretch out to attach to your treadmill's arms. This is a different build from the other two desks. Another unique aspect of this desk is that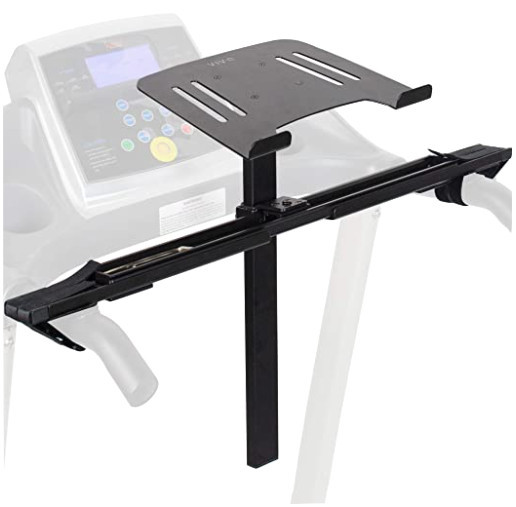 you can swivel it and adjust its height to get just the right angle for your needs.
I've noticed for myself, this has become very important, as I've made several adjustments to my own laptop mount to find the easiest and most comfortable way to work on my computer while walking.
FEATURES OF THE VIVO TREADMILL DESK
ADJUSTABLE SUPPORT BAR
This support bar allows you to adjust the width in order to clamp onto your treadmill's arms.
STEEL CONSTRUCTION
This treadmill desk is sturdier than others as it is made of solid steel. It can hold up to 8.8 pounds of weight.
SECURE STRAPS
It comes with nylon straps and safety lips with padding to ensure your laptop stays in place during exercise and doesn't slide off the desk.
EASY CONSTRUCTION
Very simple construction with step-by-step instructions included so you can quickly get this straight out of the box and connected to your treadmill.
---
WALI Laptop Tray Desk Mount
The WALI Laptop Tray Desk Mount is what I am personally using as my treadmill desk. Now, what makes this different from the rest of the treadmill desks on this list is that this one doesn't actually attach to your treadmill. However, I'm using it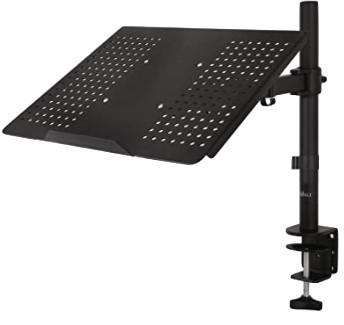 as a treadmill desk pretty creatively. This will be especially useful to you if your treadmill has no arms.
Because I'm using a treadmill without arms, I cannot easily attach any of the above desks to it. So, I bought this laptop tray desk mount, and I attach it to the edge of my bed frame. I love it, and I've only had it a few days as of this writing. It's doing exactly what I wanted it to do, so I have no complaints.
It rotates 360 degrees, and I've been able to make it adjust to various positions, until I found one that works comfortably for me.
FEATURES OF THE WALI LAPTOP TRAY DESK MOUNT
COMPATIBLE WITH DIFFERENT SIZED LAPTOPS
This mount will fit one laptop or notebook up to 17 inches wide and it also supports up to 22 pounds in weight.
MULTIPLE LOCKING OPTIONS
You can either clamp this to the edge of your desk, or in my case the edge of my bed. This is my setup, but if you want to actually drill a hole into a desk to keep it securely in place indefinitely you can do that as well. I prefer the clamp, because I remove it and store it away after I'm done on the treadmill.
EASILY ADJUSTABLE
This is my favorite feature of this treadmill mount. It's that I can swivel it around in almost any direction. I've found this to be very useful while I'm walking on the treadmill, as I realize there are certain angles that just cause my neck too much tension.  That's super easy to fix by adjusting it. This mount tilts, swivels, and rotates according to your personal needs.
VENTING HOLES
It's important to have this so that your laptop doesn't overheat.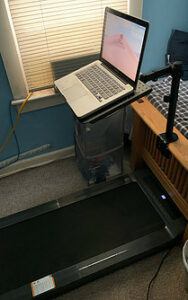 I think this is a great option for anyone who is looking for an inexpensive treadmill mounting tray, especially if you use a treadmill without arms. I saw other bulkier options, but I'm all about saving space.
So far, this is working great for me. It's incredibly sturdy and holds my laptop in place during my daily walks. This laptop mount has excellent reviews from other customers as well.  You can see my setup in the pic here.
CHECK OUT WALI TRAY DESK MOUNT ON AMAZON BELOW.
---
Which Treadmill Desk Is Best For You?
These are the best treadmill desks I found online, and the best one for your really depends on your personal needs, and specifically what kind of treadmill you own. I couldn't go with the first three options because I don't have arms on my treadmill, but I'm very happy with my WALI mount setup.
Here are the treadmill desks mentioned in this article:
SmartFitness Treadmill Laptop Desk
HumanCentric Treadmill Desk
Vivo Universal Laptop Treadmill Desk
WALI Laptop Tray Desk Mount
Hopefully you'll find a treadmill desk option in this article to suit your specific needs and that aligns with your treadmill design. I really appreciate you being here. If you have any questions or comments regarding anything in this article, please leave them below and I'll be more than happy to get back to you as soon as possible. Thank you so much for reading!